Student Book Reviews: A Second Installment
Students share their book recommendations from quarantine.
"Reading is a conversation," Mark Haddon, author of The Curious Incident of the Dog In the Nighttime said. "All books talk. But a good book listens as well." 
Particularly in quarantine, reading can help people entertain themselves and feel better about their lives. Continue reading to see book recommendations from your fellow students.
Here's What Students Recommend
The Art of Racing In the Rain
by Garth Stein – Recommended by Scott Shopneck '23:
The Art of Racing In the Rain tells the story of a human through a dog's eyes.
"I really like this book just because it is able to hold my attention. The story is captivating and the characters seem real," Shopneck said. "The book tells a good story about really intriguing characters, who make you want to read more."
The Goodreads summary for this book tells the prospective reader that The Art of Racing in the Rain is, "A heart-wrenching but deeply funny and ultimately uplifting story of family, love, loyalty, and hope, The Art of Racing in the Rain is a beautifully crafted and captivating look at the wonders and absurdities of human life … as only a dog could tell it."
The
Lunar Chronicles
Series by Marissa Meyer and
Arc of a Scythe
Series by Neal Shusterman – Recommended by Sammie Palay '24:
The Lunar Chronicles is a popular science fiction and fantasy book series by Marissa Meyer.
"This book is a futuristic version of some classic princess fairy tales," Palay said. "I
believe it would be a good read for both boys and girls for the adventure, danger, and romance."
The Amazon summary for the first book in the series, Cinder, reads, "Cinder, a gifted mechanic, is a cyborg … Caught between duty and freedom, loyalty and betrayal, she must uncover secrets about her past in order to protect her world's future."
The Arc of a Scythe books mix horror and adventure.
"This book includes horror, adventure, thriller, romance, etc. I finished this series in a matter of weeks and couldn't put them down," Palay said. "I can confirm that this isn't just my recommendation, I have several of my peers read it as well, and all of us have enjoyed it immensely."
The Barnes and Noble summary for Scythe, the first book in the series, says, "A world with no hunger, no disease, no war, no misery: humanity has conquered all those things, and has even conquered death. Now Scythes are the only ones who can end life—and they are commanded to do so, in order to keep the size of the population under control."
The
Mistborn
Series by Brandon Sanderson – Recommended by Drew Whitney '23: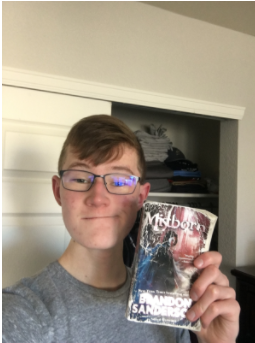 The Mistborn series mixes fantasy with political themes.
"It's a fanatical story that contains so much detail and a main topic of revolution against oppression by the rich and powerful," Whitney said. "I think that other students should read it because it gives a nice insight into the life of the oppressed in the book's society, and its fanatical element is very unique and interesting."
The Amazon summary for Mistborn: The Final Empire (the first book in the trilogy) reads, "For a thousand years the ash fell and no flowers bloomed. For a thousand years the Skaa slaved in misery and lived in fear. For a thousand years the Lord Ruler, the "Sliver of Infinity," reigned with absolute power and ultimate terror, divinely invincible. Then, when hope was so long lost that not even its memory remained, a terribly scarred, heart-broken half-Skaa rediscovered it in the depths of the Lord Ruler's most hellish prison."
Holding Up the Universe
by Jennifer Niven – Recommended by Danielle Yoder '24
This story tells multiple perspectives in a unique love story.
"This book can open your eyes on what other people may be going through, and the diversity in our society," Yoder said. "I think other people should read this book because it is a really good story that brings out a lot of emotion."
The Goodreads summary for this book reads, "Everyone thinks they know Libby Strout, the girl once dubbed 'America's Fattest Teen.' But no one's taken the time to look past her weight to get to know who she really is. Following her mom's death, she's been picking up the pieces in the privacy of her home, dealing with her heartbroken father and her own grief. Now, Libby's ready: for high school, for new friends, for love, and for every possibility life has to offer."
If you do not want to pay for books, you can read an ebook for free from the library on https://dcl.org. 
An infographic showing statistics about readers like you. (Infographic by Grace Uhrain)