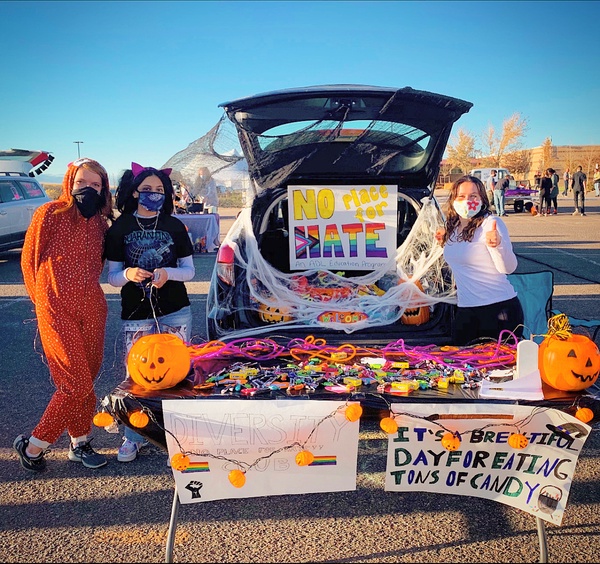 Alisha Pravasi
The new No Place For Hate club is joining the school's collection of clubs. Sara Smith '21, Alisha Pravasi '21, and Kiki Lee '21 decided to take on a school branch of an initiative by the Anti-Defamation League (ADL). The idea of a diversity club stemmed from an Arapahoe Community College (ACC) conference.
The Anti-Defamation League (ADL) is an organization that fights hate. The organization was started in 1913 to stop anti-semitism and has since grown to help stop hate and bias, according to its website.
Hate crimes are currently on the rise.
According to Justice.gov, "The 2019 hate crimes data, submitted by 15,588 law enforcement agencies, provide information about the offenses, victims, offenders, and locations of hate crimes. Of these agencies who submitted incident reports, there were 7,314 hate crime incidents involving 8,559 offenses."
The FBI reported 7,120 hate crimes in 2018. The number of hate crimes from 2018 to 2019 went up by 194.
"No Place for Hate originally started as the Diversity Club after the co-presidents and I attended a diversity conference hosted by ACC last school year," Smith said. "We were enlightened from what we learned in this conference and wanted to take our learnings and further apply them to make RCHS a safe space for everyone."
The club, previously known as Diversity club, has now joined with the ADL initiative along with the rest of Douglas County School District (DCSD).
"Ms. Costello and I have always been passionate about the importance of diversity and inclusion. When we were approached by Mr. Cary to sponsor a 'diversity' club, there was no question we would take this on," counselor and club sponsor Rachel Wagster said. Wagster believed the No Place For Hate mission was similar to the diversity club mission, so the sponsors and co-presidents decided to combine the two.
According to BBC News, US hate crime rates are higher than they have been for a decade. Current events have played a role in inspiring members of this club. 
"My hopes for RCHS' No Place for Hate coalition is that we continue to have inspired and empowered student leaders so this club can have a lasting impact on making RCHS a safe and inclusive place for students to learn," Costello said.
"What inspired me to join the club is with this past year there has been a bunch of racism, and especially with Asians," Emily Nguyen '21 said. "BLM is amazing but Asians haven't gotten the help they need with everyone blaming Asians for the pandemic."
The founders and members of No Place For Hate at RCHS have high hopes for the impact of the club on the school community.
"I hope that our club can bring Jags from all different backgrounds together, especially during these difficult and dividing times," Pravasi said. "I want long-lasting unity throughout RC so that school can be more enjoyable for us all!"
Smith hopes the club will let all students be accepted and that all will be shown compassion. Currently, the club is working on getting signatures for the pledge against hate, organizing a seminar lesson about inclusivity, and raising awareness about hate.
"We're currently working on another seminar lesson surrounding inclusivity!" Pravasi said. "We aim to have this lesson out by the end of April!"
How You Can Participate:
Sign the pledge. "We invite each staff, student, and community member of RCHS to sign the pledge to make a commitment to help make RCHS a safe place for each individual that walks through these halls," Counsellor and club sponsor Maureen Costello said. "It is up to each person if they want to sign the pledge to show their commitment and we hope that by reading each statement on the pledge, it starts conversations around bias and bullying in our community.
Follow rc_noplaceforhate on Instagram.
Become a member! "I was inspired to join this club because it had such a positive message," Piper Smith '24 said. "I was really impressed by the thought and dedication the team leaders and members put towards sending a positive message, and making sure everyone knew about how hurtful hate can be."
For more information, watch the following video: https://drive.google.com/file/d/10GAz9cEGjJXUPQw7h437IoH0MnHNjH2g/view
(photo by Grace Uhrain)