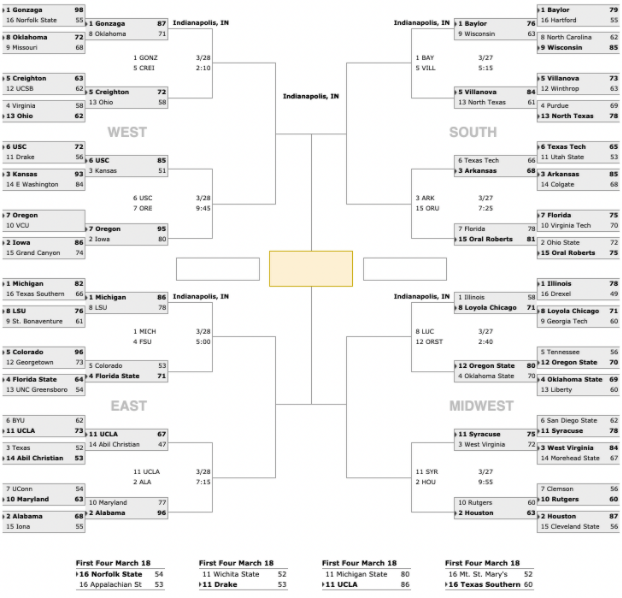 ESPN
March Madness is well underway, and this year is unlike any other. Last year, the competition didn't happen due to the Covid-19 pandemic. As a result, it is gaining more attraction this year than ever seen before, 14.7 million brackets were filled out this year on ESPN alone. The amount of coverage from outlets like ESPN and SportsCenter on the tournament has been astronomical, simply because of how little college sports had been reported on in 2020 due to the pandemic. It is also a year for the history books because the teams for University of North Carolina, Kentucky, Kansas, and Duke, are not in the Sweet 16 (third round of the tournament), for the first time since 1979. Heading into the Sweet 16, where the first four games are March 27, fans can look forward to seeing Oregon State compete against Loyola Chicago, Villanova compete against Baylor, Oral-Roberts compete against Arkansas, and Syracuse compete against Houston. The second half of the Sweet 16 will happen on March 28, and feature Gonzaga take on Creighton, Florida State play against Michigan, UCLA compete against Alabama, and Oregon take on Southern California. 
This year has also been one full of upsets, teams no one thought had any chances of winning, won; Oral-Roberts, who was ranked 15, upset Ohio State, who was ranked second, at a score of 75-72 in the first round. Syracuse, ranked 11, upset West Virginia, ranked third, 75-72 in the second round. Most of the top ranked teams were eliminated by teams that no one would have expected to win, seeing as they were the lowest ranking teams in the competition. 
"Oral Roberts is a good team, I don't think they should have been a 15 seed but I am very surprised they beat Ohio State since Ohio State had a good chance of making the final four." Collin Wald '21 said.
The last time Oral-Roberts won an NCAA tournament game was back in 1974 against Syracuse, in the first round of the Division One NCAA Championship tournament. They won the game 86-82, but went on to lose in the second round. 
"I am very surprised by the upsets that have happened so far since every seed has won except a 16 seed and there was not a single perfect bracket coming out of the first round which shows how many upsets there have been. I honestly think it's more interesting with more upsets." Wald said.
The University of Kansas, a historically dominant team was upset by USC in the second round, losing 85-51
"So far I love all the upsets. It's really exciting to have an unpredictable tournament especially after not having one last year." Max Peery '21 said.
Peery has been following College Basketball since the fifth grade. 
However, some top teams are still holding strong against their opponents, Michigan, ranked first, has beat each of their opponents by a score of eight or more. While ranked fifth, Villanova has beaten each of theirs by more than 10. Gonzaga, ranked first as well, has easily beaten each team they've played by more than 15 points, beating Norfolk State by 43 points. 
"I think Gonzaga will win it all," Peery said.
Gonzaga has won the March Madness tournament 17 times, and currently has the best record in the NCAA, sitting at 28 wins, and zero losses. 
"I think Gonzaga or Houston will win, but I'm really hoping Gonzaga doesn't win," Wald said.
Houston is another team that has been dominant this season, with a record of 26 wins and 3 losses, they are currently on a nine game win streak.