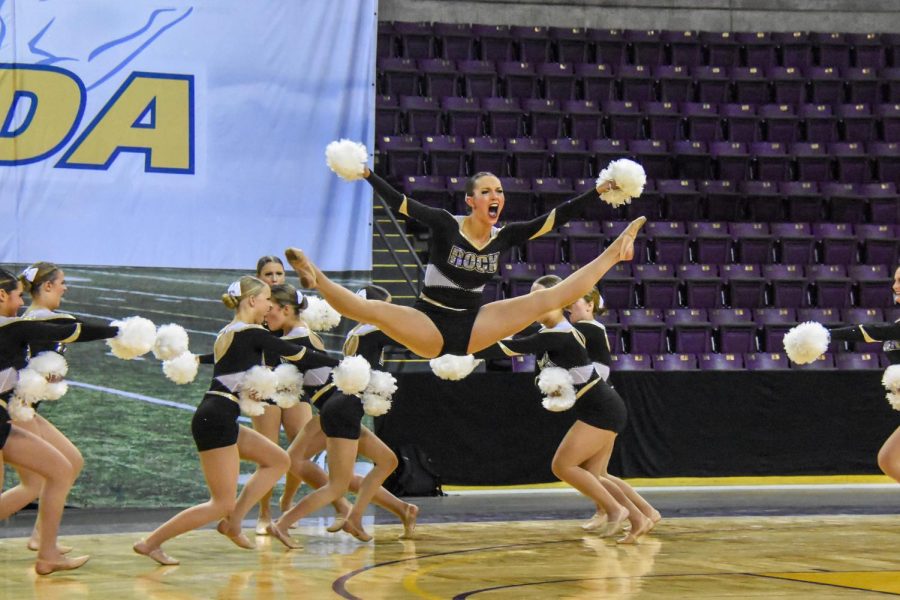 Bella Wheeler
After a year of virtual competitions and empty stands the Varsity Spirit State Competition at the Broadmoor World Arena brought a screaming crowd, live performances and an end to one of the hardest fought seasons for 15 athletes. 
The Varsity Poms team won the 5A Poms state title March 26, winning the first program state title in 12 years. The team, placing second last year, were victorious over the Cherry Creek Bruins and put two performances on the floor. 
The chaotic season began just as quickly as it ended. Originally pushed to March the poms season was moved to January and the athletes were told two days before their season began. That was only the beginning as soon after the team performed at their first virtual competition when one athlete broke her foot and competed in both dances. With only a week until the League championship the team quickly had to change the dance and had learned parts of their routine the night before the competition. March 6 they clinched the League title by 3.2 points over Regis Jesuit. 
"This season was so crazy," Ari Levy '23 said. "Everything was changing so much and every week we would almost have a whole new dance as quarantines and inquiries brought people in and out of our dance."
After Weeks of practice in the wrestling room from 4-8 p.m., meeting every day over spring break, and fighting through multiple injuries the girls earned some well deserved bling. Led to victory by captains Lauren Bishop '21, Chloe Yearous '21, and Macy Fallin '22 the team walked away with the highest score from the entire competition. 
"In the end all the blood, sweat and tears paid off," Danielle Zappavigna '23 said. "Everything that could go wrong went wrong and even though it was tough we all pushed through together and we couldn't be happier."