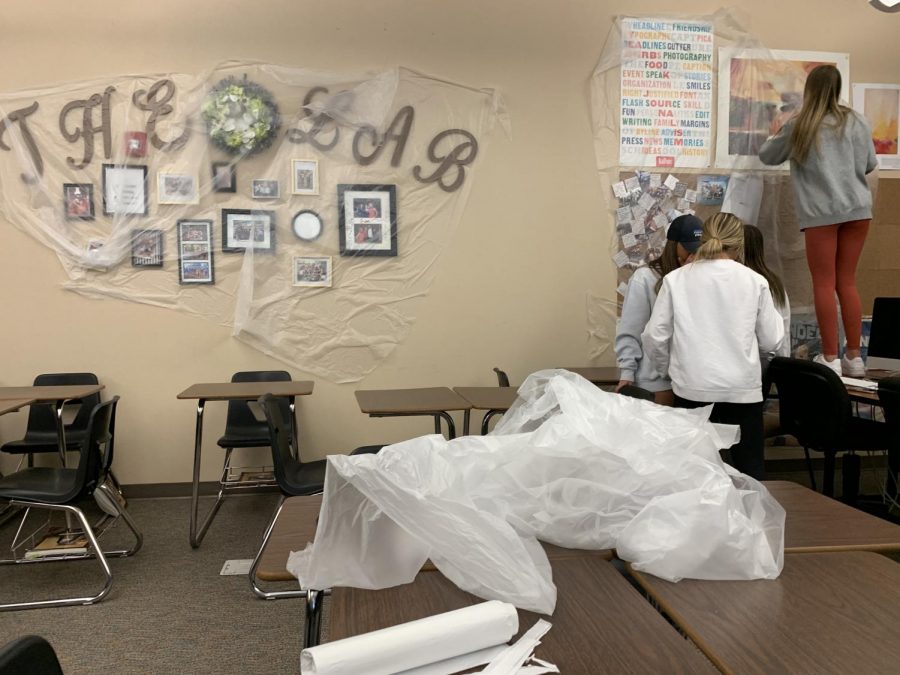 photo by Amanda Brauchler
How Coronavirus Affects School
Douglas County schools are closed March 13-27. After spring break, there will be a week of "remote learning." Here's what that means.
As students prepared for their last full day of school before spring break March 13, the district announced that schools would be closed an extra week. All Douglas County schools are closed from March 13-March 27. The dates are not definite, and can be extended if needed. This includes a week of spring break, leaving the second week of closure for "remote learning." This decision came as a precautionary measure to combat the spread of coronavirus.
As of March 18, there are 160 presumptive positive cases of coronavirus in Colorado. In Douglas County, there are eight positive cases. According to the CDC, long closures of school (over eight weeks) can mitigate the spread of the coronavirus.
"Available modeling data indicate that early, short to medium closures do not impact the epi curve of COVID-19," the CDC said in a new memo about considerations for school closures.
The CDC points to how Hong-Kong, that closed their schools, could better manage the disease than Singapore, that did not close their schools. However, they note that washing hands and home isolation have a greater impact on minimizing the spread of the disease than short-term closures do.
Even so, DCSD schools will be closed until March 30. Now, 90% of Colorado's students are out of school. With the school closures came the cancellation of all after school athletics and activities through April 18, from CHSAA. All out-of-state district trips are canceled. All end-of-year testing in Colorado is canceled, as of March 17.
What is "Remote Learning"?
Update: As of 6:40 pm March 18 In a new executive order, Governor Jared Polis announced that all Colorado schools must suspend in-person instruction until April 17. Douglas County had previously planned to have online instruction March 24-27, and will continue with remote learning.
The week of March 23-27 will be a remote learning week in Douglas County. Meaning, classes will be conducted online, mostly consisting of formative or enrichment assignments.
Monday, March 23 is a teacher planning day, meaning that students should not be assigned work. Starting March 24, teachers can begin communicating lesson plans through email or online services like Google Classroom and Schoology.
In an email to all instructional staff, DCSD Superintendent Dr. Thomas Tucker emphasized that assignments should be "simple and manageable and not include any new content." There should be no major summative projects or assessments so that there would be no negative consequences if a student misses the instruction. According to the email, students should not be penalized for incomplete work.
"We understand that this is going to present challenges. Try to think outside the box," Rock Canyon principal Andy Abner said during an all-faculty meeting March 12. "But be careful that we're not loading on extra work that's not typical."
Principal Abner is allowing individual subjects autonomy over their assignments, he only asks that those assignments are consistent and manageable. This means, for example, that regardless of what teacher they have, all English I Honors students should have the same assignments and format.
During the time off, all teachers should be available through email during normal schools hours.
"This is not a ski vacation," Abner said to faculty. "We're still working from home."
Students should expect communication about assignments and expectations via email, chat services (like Remind), or through Google Classroom/Schoology from teachers around March 23.
"I don't want to do online work because I feel like it will be a full week of busy work and it's going to be stupid and I'm going to procrastinate," Devon Kessler '23 said. 
School Resources and Classified Staff
Over spring break, all DCSD schools will be sprayed with industrial-strength chemicals to disinfect classrooms and materials. In preparation for this, classrooms were cleaned and covered in plastic March 13.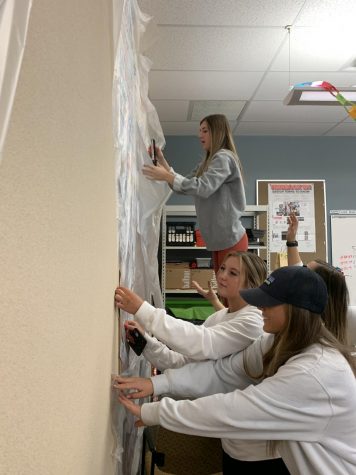 "I'm not that worried about [coronavirus] but I think the panic of like everyone in shutting down schools is now making it more real," Hailey McDowell '20, who helped to prepare room 4113 for cleaning, said. "It didn't seem like a big deal until like all schools started shutting down and grocery stores are completely out of stock like multiple things."
Also during the school closure, DCSD will provide free meals to any students. Starting March 23, free lunches will be available at locations in Parker, Highlands Ranch and Castle Pines. To see the locations and times, click here.
So far, DCSD has not announced how classified staff will be compensated during the closure. (Classified staff are school employees that do not require certification for their job. For example, custodial staff.) With the building closed, classified employees are unable to work because their job requires students to be present or for the school to be open.
Principal Abner is advocating for all classified staff to be compensated as they usually would if school was open.
"Our district would be crazy not to [compensate classified staff] because [they are] valuable employees do a great job for us," Abner said to faculty. "I can tell you I'm not alone, all the principals are advocating for this."
After School Activities and Athletics
During spring sports and state competition season, CHSAA (Colorado High School Activities Association) announced that all after school activities and athletics are postponed until April 18. This mass-cancellation includes all spring sports, music events, the CHSAA Hall of Fame, CHSAA Legislative Council meeting, speech and debate and Student Leadership Adviser U.
"I can't play in my senior volleyball season, which kind of sucks because we were really good this year," Dhruv Modi '20 said. "Everyone's kind of upset because we were looking forward to the season." 
Spring sports like men's volleyball, track, tennis and lacrosse were all canceled. All performing arts were canceled as well, right before choir and orchestra's spring concerts.
"It's really upsetting that spring sports are canceled because since I do lacrosse, it's my season as a junior to be able to get recruited," Teagan Osoba '21 said. "Without that opportunity [of recruitment], it prevents me from being able to follow my dream and become the best player that I can be."
Prom and Graduation
Douglas County will make a decision March 23 if prom will still take place. However, Governor Jared Polis called for events with over 250 people to be canceled, unless six feet of space can be guaranteed between each person. Graduation plans for the Class of 2020 are also up in the air, it is unclear whether or not cancellations will be lifted by late-May.
"It's kind of sad because I just wanted the end of senior year to be different," Tierney Kellish '20 said. "I don't care if coronavirus is taken over, I'm walking across that stage and I'm putting my switching my tassel over."
Testing
As of March 17, end-of-year state testing was canceled for all Colorado students.
"With the extraordinary actions we are taking to prevent the spread of COVID-19, it's clear that we need to press pause on our CMAS tests this year," Katy Anthes, Education Commissioner, said. "Students and educators need to feel a sense of stability and normalcy before state tests can be administered and produce valid results. This also means we plan to pause our school and district state accountability system as it relates to state assessments for a year."
This includes CMAS testing and PSAT/SAT testing. Schools are trying to work with CollegeBoard, the organization that administers SAT tests, to come up with a solution for students. The SAT is often mandatory for college admissions and scholarship applications. Douglas County students also missed the fall PSAT because of a snow day Oct. 30.
CollegeBoard is also working to finalize plans for AP testing. They will make an announcement March 20, according to their Instagram.
For ongoing updates about coronavirus and school cancellations, follow @rcRockMedia on Twitter and Instagram and check rockmediaonline.org.