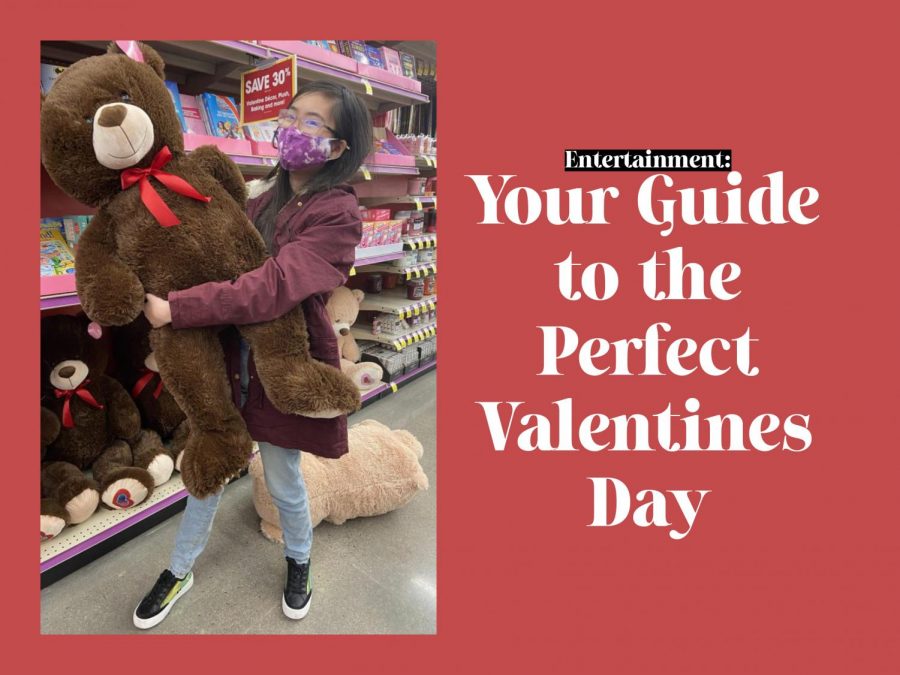 photo by Lily Hansen
Your Guide to the Perfect Valentine's Day
Valentine's Day is all about spreading love. Use this guide to spread as much positivity as possible with your special friends and family.
February 13, 2021
Valentine's Day is a globally-celebrated holiday. Though it is often questioned whether the holiday should still be honored as it has been so highly commercialized.
Why Do We Celebrate?
The Roman Catholic holiday originated from a saint named Valentine in third century Rome in an article from History.com. Emperor Claudius II decided that single men made better soldiers for an army and outlawed marriage for young men consequently. St. Valentine illegally married young couples and was imprisoned and set to be beheaded. He fell in love with a girl and sent her a letter with the message "From your Valentine." To commemorate St. Valentine's death, a pagan festival and feast were held Feb. 15. At the festival, bachelors would draw a woman's name from an urn and the pair would spend the rest of that year together until Feb. 15. Most matches would end in marriage. By the end of the fifth century, Pope Gelasius deemed the initial festival "un-Christian" and reclaimed Feb. 14 as the official Valentine's Day. Feb. 14 was recognized as the starting date of mating season for birds, and that is how the holiday became associated with love.
"I would say that Valentine's Day is a real holiday in the way that it brings people together similar to other holidays like Christmas. Maybe its roots aren't as significant as the others', but it still brings everyone together for a day, and that's what's important," Ryan Gerlitz '22 said.
On the Other Hand…
Many see Valentine's Day as a "Hallmark holiday" so that the famous card company could produce and make more profits on holiday items. 
"I would say that Valentine's Day is just a Hallmark holiday because it doesn't seem to promote spreading love as much as it promotes the idea of gift giving. I feel like my point is proven by how crazy supermarkets go around Valentine's Day and also all the commercials you'll see about the holiday. I've also never really heard of the history of the day, which makes me suspicious about its legitimacy," Zoe Lagarenne '23 said.

Loading ...
Gift Ideas
Valentine's Day is a day to give gifts or let someone know you're thinking about them. Here is a list of special presents to give a special someone. And keep in mind that gifts can be given to anybody: your significant other, your best friend, your parents.
Order a Custom Gift:
The Koogle Explosion Box Set is customizable so you can paste on your own pictures and make it unique to your partner's liking. For $15.99 you can purchase the Black Box Set or for $22.99 you can get the Deluxe Black Box Set.
"When all the pictures of all the good times and memories spring out it would be so cool! In a tiny box, the happiest memories explode out. It's so unique, too. I would smile so much my face would hurt and I'd be so happy I'd hug him for as long as I could. Then I'd tease him for being so sweet. I would not stop smiling. My heart would race so fast," Claire Price '22 said.
The Book of Us gives the gifter the ability to create a book custom to them and their partner's story. From beginning to present it could include major milestones in one's relationship. For $39.99 you can write your own story. 
"I'd feel really happy knowing somebody spent the time to do this for me. It would be something I'd cherish for a long time. For me, it would remind me of '18' by One Direction because that song is a love story that I want to live through," Ayanna Cudennec '24 said.
The Custom Spotify Music Code Plaque allows you to choose an album cover for your relationship and an anthem to describe it. Whichever form you chose to print your picture and song on will have a Spotify code that you can scan with your phone. This special code takes you to your song. From $9.99 to $29.95, you can choose from a small key chain to a large throw blanket. Play the melody of your relationship.
"I wouldn't buy that for my wife – she'd kill me if I spent that much money on something like that. It's a good idea though, and if I had money I would buy it. The song I would choose for my wife is 'I Won't Give Up' by Jason Mraz," chemistry teacher Brandon Hommel said.
"I would absolutely like to either receive or give a gift similar to this. If I had a choice in song, it would be 'Yours' by Russell Dickerson. When listening to the song, the lyrics [that] speak most to me [are] 'You make me better than I was before, thank God I'm yours.' It is important to encourage one another in a relationship, and the whole song written by Dickerson highlights that. This would be a great gift for Valentine's Day because it shows how much your partner cares about you and it is something special and specific to your relationship," Braden McCollam '23 said.
Timeless Gifts:
Roses and Chocolates – the classic duo of longevity and sweetness. Available at any corner store or luxury shop, flowers and candy are the quintessential gift for Valentine's Day. 
"I would buy some really expensive or foreign chocolates – the boxes of chocolate are nice, but they're too cheesy and basic… [I would also] buy some roses," Stephen Siegrist '21 said.
Stuffed Animal – something that doesn't wilt or isn't (hopefully) consumed is a stuffed animal. Teddy bears with hearts or puppies with bows are a common present given. 
"If I was going to give someone a stuffed animal for Valentine's, I would go to Build-A-Bear Workshop, find out their favorite animal, make it Valentine-themed, stitch our names on the chest so it can be more meaningful, and make it hold a heart so it can be more meaningful. Also, I would pick out a hoodie to let them know they can always be comfortable around me," Zach Mariott '24 said. 
Jewelry – From watches to rings, decorate your s/o with bling. Seen in the windows of glamorous boutiques or in small retailers, it is accessible to buy anywhere.
"As a co-owner of Crystal Jewels, I am a jewelry lover. I love receiving and giving jewelry because it's an amazing feeling to see the people's faces whom you love light up with joy when they receive jewelry as a gift. Our products are handmade with love and [are] a perfect gift for Valentine's Day! Crystal Jewels [has] a wide variety of necklaces, rings, bracelets, and Valentine specials. [It's] for the people you care for this Valentine's Day!" Tiffany Lahey '22 said. 
You can buy Crystal Jewels' products for someone this Valentine's day on depop or @crystaljewelsbiz on Etsy or @cryst_aljewels on Instagram.
Date Ideas
Take an hour or two out of your day to enjoy some quality time with the people you care about.
Go Out to Dinner: Each restaurant suggested is a different culture of cuisine and atmosphere. For those couples who like to try everything together, these eateries are the perfect places to expand and explore your palette with your partner. For each restaurant recommendation, I'm including the address and directions, the best way to reserve your night, and a dollar amount out of five dollar signs ($) for how pricey it is.
White Chocolate Grill

(

8421 Park Meadows Center Dr, Lone Tree, CO 80124

) Available for in-person dining, the White Chocolate Grill accepts reservations made online

here

and by phone call at (303)799-4841. People can also sit outside in table bubbles with their party to ensure that they are secluded in their own safe space. Rate: $$$$$/$$$$$
"I recommend the White Chocolate Grill to couples because they are attacking lots of precautions to keep everyone safe during the pandemic. They're menu is still the same unlike other restaurants that are sizing down for COVID. With a smaller capacity it feels more private which is perfect for couples," Paige Howeiler '23 said. "I think the bubbles outside of the White Chocolate Grill are a super cool concept and I'm glad they gave that option for outdoor seating especially in the winter.  I did not feel in danger of getting the virus while I was there because of the lesser number of people in the restaurant and the use of masks. I haven't gone to very many restaurants during the pandemic but White Chocolate was one of the best experiences I have had. Going to the White Chocolate Grill during COVID was a positive experience, and I feel like they were doing as much as they could to make it safe," Howeiler said.
Empress Dim Sum

(

825 W Alameda Ave, Denver, CO 802192

) Available for walk-ins and by

reservation

. Rate: $$/$$$$$
"Empress is a romantic place to try authentic Chinese cuisine. It is an exotic restaurant that you and your love interest can enjoy together and try new experiences," Karisma Leung '22 said.
La Loma

(

6361 Promenade Pkwy, Castle Rock, CO 80108

) Available for walk-ins and by

reservation

, they offer outside seating on their terrace. Rate: $$$$/$$$$$
"The restaurant had a very romantic seating arrangement for couples and groups. Not to mention they have one of those grills where they cook in front of you," Michael Quintana '22 said.  "La Loma has really spaced out tables for social distancing and nice outdoor dining with warm fire pits. All of the staff were fast and wore their masks properly, plus they check temperatures at the entrance to ensure the safety of others inside the restaurant."
Casual Dates: The little things and small experiences can make for some the most memorable times in one's life. For those couples who like to try everything together, these activities are the perfect things to try or do with your partner. For each date recommendation, I'm including the address and directions and a dollar amount out of five dollar signs ($) for how pricey it is.
AMC 24

(

103 Centennial Blvd, Highlands Ranch, CO 80129

) The AMC Theatres are now open to people who want to spend more money on concessions than actual movie tickets. However, some movie times are down in prices by 10% – 40% due to theatres not being as popular since the beginning of the pandemic. Not only do they show movies where you can reserve your seating in advance to ensure you are keeping away from others but parties can rent out an entire room for groups of 1-20  for a

private screening

. Rate: $$/$$$$$
"I think going to the movie theater is a good date because you and your partner can share some popcorn, whisper dumb jokes to each other, and try not to laugh during the cheesy parts. Afterwards you can grab dinner and talk about the movie. My preferred movie to see would be 'Toy Story 3' because nothing says romance like getting anxious about college," Nate Strobel '21 said. 
Skate City

(

5801 S Lowell Way, Littleton, CO 80123

) Open for free skate, couples or groups can go to Skate City to roll the night away. Following the state's COVID-19 guidelines, the rink has instituted a mask rule and for different parties to distance at least six feet away from each other. Rate: $/$$$$$
"Skate City is the perfect date for Valentine's Day because you can mess around with your partner, show off your expert skating skills, and potentially fall and have your date swoop you off your feet. I mean, what more can you ask for?… Hopefully they catch you," Leia Foster '22 said.
H

ot Pots

(

2570 West Main Street Littleton, CO 80120

) Peaceful and serene, painting is something that people can do to boost their creative quotient. Each party gets their own table and they sanitize every paintbrush and bottle after use. After creating your masterpiece, you can pick it up in one week so that Hot Pots can bisque fire it and set the paint so it doesn't wash off. Rate $$$$/$$$$$
"You get to appreciate the artistry and the perspective of the art piece. You get to share the meaning of the art to your significant other. It's something that can spark deeper meaning with someone you care about," Colin Wright '21 said.
At the end of the day, it doesn't matter what you do or how much money you and your partner spend on each other. All that really matters is the time and effort you put into the love you give.