Delicious Treats or Good Eats?
Need a quick and easy treat? What about a delicious dessert to bring to a family dinner for the holidays? These treats perfect for a late night snack or a treat to make when you need a fun activity, but as an added bonus they are also healthy.
Hang on for a minute...we're trying to find some more stories you might like.
Chocolate Peanut Butter Banana Bites
Ingredients:
2 medium ripe bananas

1/4 cup creamy peanut butter

3/4 cup dark or milk chocolate chips

1 1/2 tbsp coconut oil
Directions:
Cover a baking sheet with parchment paper. Slice each banana into thin slices and arrange half of the pieces on the baking sheet.

Spread peanut butter onto each banana slice, then cover each slice with another slice. Place in the freezer for about 30 minutes or until frozen.

Place the coconut oil in a microwave safe bowl and microwave until melted, stir in the chocolate and continue to microwave until smooth. Use a fork or spoon to cover each banana bite in chocolate, then place in freezer again for one hour.

Store in freezer, thaw for a few minutes before eating.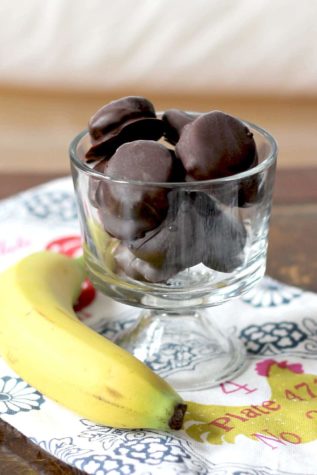 Chocolate Chip Peanut Butter Cookies
Total Time: 15 minutes
Makes: 12 cookies
Ingredients:
1 cup peanut butter

1 large egg

1/3 cup

honey

or liquid sweetener of your choice

1 teaspoon vanilla (optional)

1/4 cup

uns

weetened cocoa

powder

1/2 teaspoon baking soda

3/4 cup dark or milk chocolate chips
Directions:
Preheat oven to 356 degrees.

Prepare a cookie tray covered with a piece of parchment paper.

In a large mixing bowl whisk together peanut butter, egg, honey and vanilla extract. Whisk until combined.

Add the cocoa powder, baking soda and chocolate chips. Combine with a spatula.

Shape 12 cookie balls with your hands.

Place each cookie ball on the prepared cookie sheet. Press slightly with your hands to flatten the balls as a cookie.

Bake for 10-12 minutes.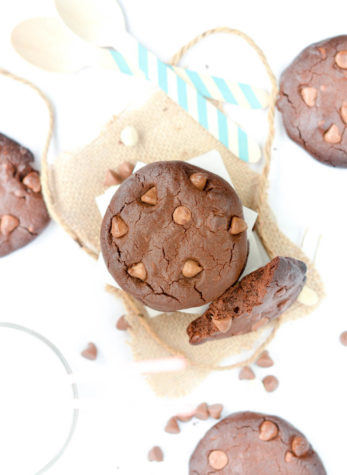 Peanut Butter Oatmeal Bars
Total Time: 30 minutes
Makes: 12 bars
Ingredients:
1/2 cup creamy peanut butter

1/4 cup brown sugar

1/4 cup honey

1 large egg room temperature

2 tablespoons melted coconut oil

1 teaspoon vanilla extract

1 cup old-fashioned rolled oats

3/4 cup white whole wheat flour

1/4 teaspoon salt

1/2 teaspoon baking soda

1/2 cup chocolate chips
Directions:
Preheat oven to 350 degrees. Line an 8×8 inch baking pan with foil or parchment paper.

In a large bowl, mix together the peanut butter, coconut sugar, honey, egg, coconut oil, and vanilla until fully combined.

Add in the oats, flour, salt, baking soda and mix until combined. Fold the chocolate chips into the batter.

Spread the batter into the prepared baking pan. Bake for 15-20 minutes at 350 degrees or until the top is set and lightly golden brown.

Allow to cool in the pan, then cut into bars.
Recipes Used:
http://smilesandwich.com/2014/04/02/dark-chocolate-peanut-butter-banana-bites/#_a5y_p=5201708
https://www.sweetashoney.co/healthy-peanut-butter-cookies-easy-chocolate/
https://www.livewellbakeoften.com/healthy-peanut-butter-chocolate-chip-oatmeal-bars/