Newsies the Musical
All for one and one for all! Newsies hits the stage Feb. 27 through March 2.
Disney's Newsies the musical is coming to Rock Canyon from February 27 through March 2. Shows start at 7:00 p.m. and on March 2 there is a 1:00 p.m. matinee. While most tickets have sold out, there are some single seats for evening performances and more openings during the Saturday matinee.
Months of preparation went into preparing the show, including: students playing in the pit, the performers, the students working behind the scenes,  and the production has a lot of moving parts that come together for one spectacular show.
"My favorite part of being in the musical is entertaining an audience. I love giving people something to be entertained by," Actress Lily Schmoker '19 said. 
The band and orchestra students participating in the pit have the responsibility of learning all of the music behind the songs on stage. During their rehearsal, they memorize notes and practice with the performers.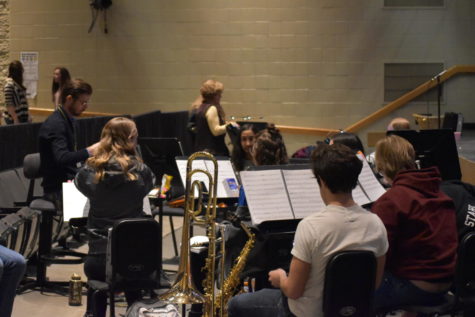 Along with the music, the actors spend long hours in the auditorium going over lines and bringing to life a Broadway show. While the finished product is presented in two hours, the students have spent many days and nights putting the production together.
While the actors are front and center, there is much going on behind the scenes where the techies are working to build sets, move props, and keep the show running smoothly.
"I am on light crew and basically we go up in the catwalks which are above the stage and audience and we hang all the lights for the shows, and then we program them for ques," Aspen Crawford '21 said. "I like the quick pace. It's really hard at times and it's kind of stressful at times but I like that."
Come see the show with friends and family and be sure to support your fellow Jags by getting your tickets soon and let them know their hard work does not go unnoticed.