What's the Deal with ThesCon?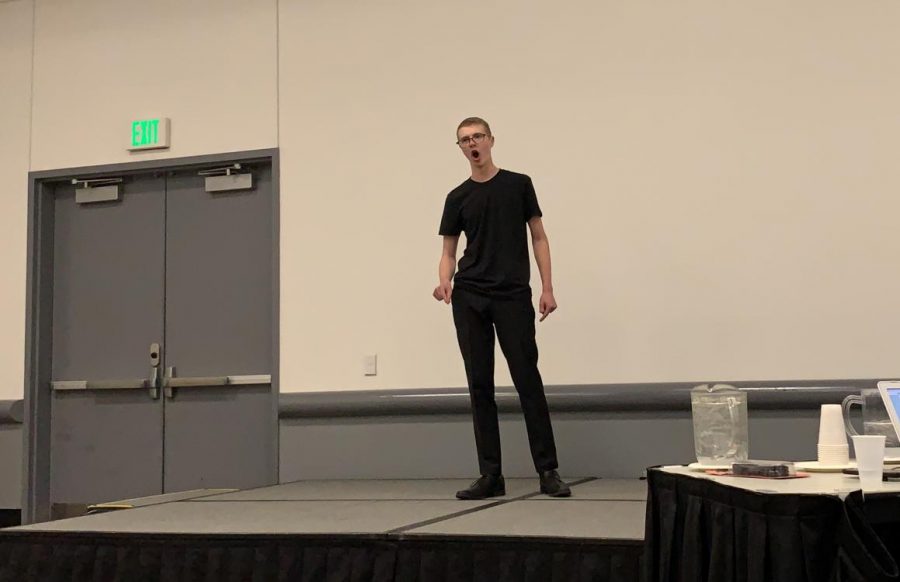 You may be asking, "Why were a lot of people wearing those thespian windbreakers?" or "Why is everybody talking about ThesCon?" Well, it's because, Dec. 12-14, members of the Rock Canyon Thespian troupe 7206 went on a trip to Denver, Colorado for an annual convention called ThesCon. Every year, thespians all across Colorado travel to Denver in order to experience a weekend of sessions, performances, and individual events. 
At ThesCon, over 600 people competed in a musical solo IE (Individual Event), including one student at RCHS, Andrew Dupper '22. Dupper sang "If I Can't Love Her" from Beauty and the Beast for his IE.
"I was pretty nervous about how it was going to go and at the start, I didn't really feel that confident, but after I got started I started to gain a lot of confidence," Dupper said regarding his IE. "I would say I'm looking forward to more IE's because now I know kinda what to expect and I can better prepare myself for them."
Although many people performed IE's at ThesCon, many also performed in other challenges. One challenge, in particular, was the tech challenge, a challenge where techies compete in multiple different tech-related challenges such as the: light hanging, stage taping, and costume changing. One student, Trinity Hennessee '21, performed in the tech challenge.
"[The Tech Challenge] was stressful because I was watching and looking at other people do the challenge possibly better than me," Hennessee said. 
Alongside many competitions, two main stage performances were performed by other schools: Matilda and Kid Simple: a Radio Play in the Flesh. Rifle High School in Rifle, CO performed Matilda and Mitchell High School in Colorado Springs, CO performed Kid Simple: a Radio Play in the Flesh.
"Both the plays were unique and it was interesting to see how other schools' theatre programs were," Dupper said. 
By the end of ThesCon, the dr earned 22 individual qualifications to the national level, a second place for the improv team, a one-act that made the final chapter select showcase, and the best overall film (made by Kameron Fisher '20 and Liam Conaty '20).
"I think that Rock Canyon deserved all of these awards because from my time at Rock Canyon I learned that RC students put their hearts into everything on-stage and off," DJ Crawford, a former member of RC Drama, said. "I watched many performances that were recorded from this year's ThesCon, and it further solidified my belief in Rock Canyon's theatre program."
For more information on ThesCon and Thespians, visit cothespians.com