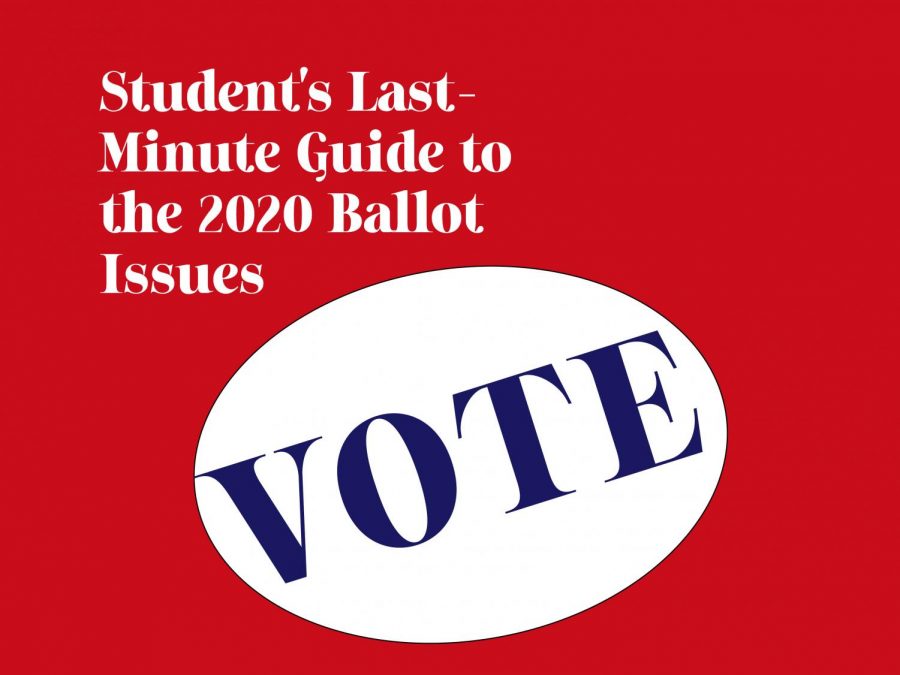 photo by Amanda Brauchler
Voter Guide to Colorado's 2020 Ballot Measures
Nov. 3, Colorado residents will vote on eleven issues on the Colorado ballot. Use this guide to each amendment or proposition on Colorado's 2020 election ballot to vote and make your voice heard this election.
The 2020 Colorado ballot consists of Amendments and Propositions. Amendments refer to making changes in the current Colorado Constitution. Propositions refer to establishing new laws or programs.
With the election coming up, and 11 issues on the Colorado ballot, sometimes reading through the BlueBook or a Google search or a government website can leave one lost in the whirlwind of confusing wording, obscure political vocabulary, and verbose legal sentences. Below is the background on each ballot issue and a researched description of what a vote "yes" and a vote "no" mean for each. In addition, each issue's argument will be included, along with student opinions. There will also be links to all of the sources used to conduct research, enabling students to do further research independently. Ballotpedia and the Colorado Blue Book will be linked throughout.
Students' Thoughts on WHY YOU SHOULD VOTE:
"It is important for kids to get active in politics because this year has so much division and animosity when it comes to opposing views. By us [teenagers] wanting to show our voice and wanting to participate in civics it shows the type of generation we will be politically. By promoting activity in politics, it is going to reflect on the type of generation we will be in the future. I'm working at a voting place, I will be vo… I am really excited to vote, it's my first year to vote, and I'm excited to have a say in such a divided situation and I ultimately hope to bring some clarity to it." Jacob Aragon '21 said.
"I think that it's important for young people to get involved in this election cycle because it really sets the tone for the rest of our generation for when we are all eligible to vote; we'll already have been using our voices and been proactive and gotten our message across without being able to vote, so when we are able to vote, it really will make a difference in this world if we haven't already." Grant DeRose '21 said.
"I think that this election is a lot different than any election in the past, it's a very pivotal one for our democracy. I think our country is more divided now than it has been in past years, so I'm really excited to contribute this year. I would say that even if you don't vote, it's still a vote for a certain candidate, so it's really important to be educated and learn about who you're going to vote for and have a voice and participate because democracy only works if we all participate." Dara Burkholder '21 said.