Students Make Their Book Recommendations
Imagine sitting in a comfortable chair with a cozy blanket, seeing yourself fight dragons or restore peace to a galaxy. Reading is an easy, accessible, and inexpensive way to pass time during quarantine.
Readers across the school would like to recommend their favorite books to other students. Over winter break, picking up a book for fun can help pass the time and enjoy oneself.
"Six of Crows" by Leigh Bardugo – Recommended by Cassidy Dobler '22
     This book tells the fantasy story of six characters.
  "It has an engaging and diverse cast of morally-gray characters and a highly entertaining plot," Dobler said. "This book manages to be funny and meaningful even as it is a fast-paced heist sort of book that always keeps you wondering what happens next."
The synopsis for this book on the Leigh Bardugo website reads, "Ketterdam: a bustling hub of international trade where anything can be had for the right price–and no one knows that better than criminal prodigy Kaz Brekker. Kaz is offered a chance at a deadly heist that could make him rich beyond his wildest dreams. But he can't pull it off alone […] Six dangerous outcasts. One impossible heist. Kaz's crew is the only thing that might stand between the world and destruction—if they don't kill each other first."
"Gates of Fire" by Steven Pressfield – Recommended by Kinley Oppenheimer '23
This book talks about the battles of ancient life.
"I think other students should read this book because even though it's slightly educational, it almost feels like a fantasy," Oppenheimer said. "The description in the novel and character arcs prove to make an adrenaline-pumping and interesting book."
The Goodreads summary for this book reads, "In 480 B.C., two million Persian invaders come to the mountain pass of Thermopylae in eastern Greece, where they are met by 300 of Sparta's finest warriors."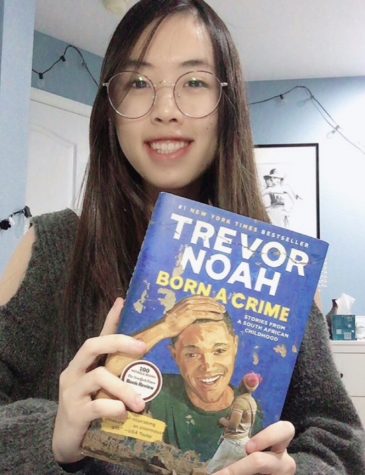 "Born A Crime" by Trevor Noah – Recommended by Annie Huang '21
This book talks about life during the Apraheid in South Africa.
"Born a Crime is overall a well-written story with plenty of funny moments within it too," Annie Huang '21 said. "It definitely has other lessons and themes too, mostly touching on family, love, and friendship: topics that we teenagers can relate to. The story touches on many of the issues prevalent in society even though we don't live in Apartheid South Africa. […] The book discusses his life being a biracial child in apartheid South Africa, I think it's a topic that's very important currently for us to be aware about," Huang said.
The goodreads summary for this book is, "Trevor Noah's unlikely path from apartheid South Africa to the desk of The Daily Show began with a criminal act: his birth. Trevor was born to a white Swiss father and a black Xhosa mother at a time when such a union was punishable by five years in prison."
"Salt to the Sea" by Ruta Sepetys – Recommended by Sara Black '21
This book reveals the fictional stories of four people involved in World War II and the Holocaust. 
"It is a bit [more of an] emotional story regarding the experiences of four different refugees during the Holocaust that all connect together in the end," Black said. "It was hauntingly good, and every detail leaves you wanting to read more."
According to the Barnes and Noble synopsis, "World War II is drawing to a close in East Prussia and thousands of refugees are on a desperate trek toward freedom, many with something to hide. Among them are Joana, Emilia, and Florian, whose paths converge en route to the ship that promises salvation, the Wilhelm Gustloff. Forced by circumstance to unite, the three find their strength, courage, and trust in each other tested with each step closer to safety."