We're All a Little "Distracted"
A quote collection about Theater IV's play "Distracted".
Being diagnosed with Attention Deficit Disorder (ADD) and Attention Deficit-Hyperactivity Disorder (ADHD) as a child can be a struggle for all involved, including one's parents. The stress of consulting many different doctors, receiving medication, and even just trying to figure out how to make it through life can put a lot on not just the child or the parent, but the entire family. In the play "Distracted", written by American Playwright, Lisa Loomer, and performed by Theater IV, these stresses and trials are on full display. "Distracted" is a play that follows a family of three attempting to navigate their son, Jesse, being possibly diagnosed with a learning disability. Throughout the show, Jesse's parents are unwilling to accept the fact that their son could be different but are forced to come to terms with the truth. 
Theater IV will be putting on two showings of "Distracted" Thursday, Nov. 3, and Friday, Nov. 4 at 7 p.m. in the auditorium. Both showings are free and there are no tickets required.
Lily Moon '24 plays five different characters in "Distracted", including school teacher Mrs. Holly,  educational neuropsychologist Dr. Waller, the autistic child's mother, a nurse, and a waitress. Moon has been in drama for four years and has not acted in a single show other than some minor roles in high school.
"It is about the twists, turns, trials, and tribulations of dealing with ADD and ADHD," Moon said. "It is also about the changing world and how many doctors are involved, along with how many options there are for your parents, like what you should be doing, and what you are doing wrong or what you are doing right. It is just a bunch of different relationships."
Katelyn Falcon '24 plays Jesse, a little boy with ADHD, and helps to direct "Distracted". As a director, Falcon helps the actors practice their lines and helps them figure out what to do in the scenes. 
"Originally the play was going to be in October, when the Theater III show was, but I told Mrs. Baker to make it longer because I knew I was not going to be able to block it in time," Falcon said. "Really, everything just needed more time. I would like more time to block the show and then also for everyone to practice and get memorization down." 
Stella Catalano '24 plays the mother of Jesse in "Distracted" and has been doing theater since first grade.
"One of the problems was that it is a very mature play, so we had to kind of work our way around that to make it more age-appropriate while still having the same meaning and the same impact that it does. It is a very tech-heavy show, and it is very long, so just really being able to execute it was our main concern," Catalano said. 
Lillian Miner '24 plays child psychologist Dr. Zavala,  psychologist Dr. Jinks, wise homeopath Dr. Broder, and environmental physician Dr. Karnes in "Distracted." With such a small amount of time to prepare their lines and scene changes, the cast and crew of "Distracted," including Miner, felt as though they would not be prepared in time but they were able to put in the work and were able to get prepared in time. 
Miner plays several different types of doctors and professionals in the medical field. This caused her to experience some issues with creating a noticeable distinction between her characters for the audience. 
"Each of my characters portrays a different accent, so that was difficult to create," Miner said. "I watched a lot of dialect videos to create those characters." 
Oliver Conard '24 plays the father of Jesse in "Distracted." 
"One of the issues is that we are only a seven-person class, which is crazy compared to the large theater four classes of past years. But it has been fun working with everyone, and we help each other out quite a bit," Conard said. 
Lexi Hayden '24 plays babysitter Natalie in "Distracted". Hayden feels that the show is in great shape but she does not feel entirely prepared for a show until she walks onto the stage for the first time on a show night. 
With such a long-running show and such a small cast, it has been a challenge for students to memorize all their lines. 
"I think just trying to get our lines memorized has definitely been hard. Stella Catalano, our lead, has been a boss, just carrying the show," Hayden said. 
While the acting is needed to put on a show, some extra help behind what can be seen by the audience is needed in order to put on a production. This includes light crew, prop crew, sound crew, and costume crew. The crew of "Distracted" is much smaller than that of other shows, with only ten members in the entirety of the tech crew.
Katelyn Calfee '25 is the light head of "Distracted," and she is in charge of all lighting-related parts of the show, such as controlling when the lights turn on and off during the show, as well as which areas to point light at during the show.
As light head, Calfee is in charge of teaching new light crew members. 
"I really like teaching people how to work spotlights and other things that they are new to," Calfee said. 
Elinor Christensen '25 is on the light crew for "Distracted" and is working follow spot up in the booth. This means that she is putting a spotlight on the actors for added effect and lighting during the show. Christensen has been doing theater since fifth grade and has loved both acting and backstage tech since she started. 
"I love theater because of the community. You build so many different relationships and you can learn a lot of skills from it. I was always an actor in elementary school, but now that I am in high school I have gotten more into tech, which has been very interesting. I like building on my experiences and skills," Christensen said.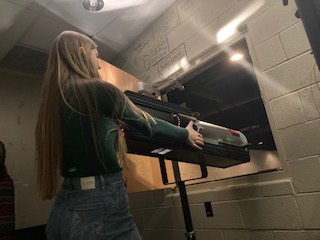 Gwen Riddoch '23 is on the prop crew for "Distracted". Riddoch helps with the set changes and gets to find all the props and organize them. 
Since Theater IV is an acting class, they did not have a tech crew to help in their scene changes at first until the theater teacher, Lucinda Baker, found them a crew. 
"There is a very small cast and almost no tech, so Baker reached out and kids from other classes have come to help," Riddoch said. 
Justin Barr '24 is another member of prop crew for "Distracted".
Since the crew for "Distracted" is so small, they have had to adapt accordingly to their meager numbers. 
"The tech crew is kind of small so we are having to find all these shortcuts to be able to produce the play but we worked on it and it is all coming out well," Barr said. 
Being short-staffed is not the only issue faced by the crew of "Distracted", however. Students on the crew have also had to handle starting much later than they usually do for shows. 
"One issue we faced was having props start late and only having four rehearsals to put on our part of the show," Prop Crew Member Cale Williams '25 said.
Despite the late start, however, the small tech crew has been able to adapt quickly and catch up with the actors in order to put the show on in time.
Drama Club President Anna Benevento '23 is also on prop crew and has acted in several mainstage productions like "Matilda" and "Clue".
"It is challenging to start tech so late into a show's development, but it is a good opportunity to practice thinking on my feet," Benevento said. 
Aspen Heppe '25 is on the prop crew for "Distracted".
"We had to start tech really fast and work super hard, but we eventually overcame these issues by talking to each other and equally spreading the workload," Heppe said.