Volleyball Secures the Continental League Championship

Ranked #1 in the state, RC Girls Volleyball took on #3 ranked Mountain Vista, Oct. 25 in a riveting match that would determine the champions of the Continental League. In the continuation of an ongoing rivalry, both teams were unwilling to show leniency. Points were given back and forth, the teams being very evenly matched.
    The first set was won by the Eagles, whereas the Jags were able to rally back and win the second. The next two were back and forth as well, making the score 2-2. The opposing student sections were enjoying the competitive environment, chanting back in forth in accordance with the game.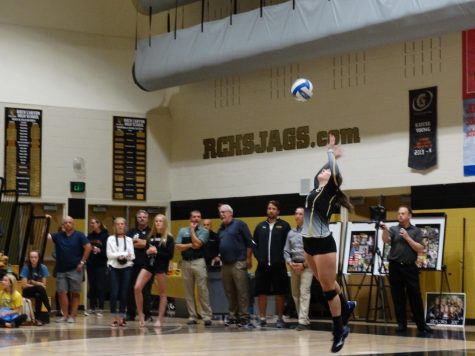 When the fifth and final set began, the level of excitement increased, along with the tension. Though the Eagles started off strong by creating a distance in the points, team captain Skylar Lane '17 made every attempt to maintain positivity. Every point required more effort than normal, but every word of encouragement and every move of physical exertion worked in favor of the Jags.
    The sizable student section rushed the court just moments after Harley Freeseman '17 got the winning kill. With screams of excitement from the RC fans and sighs of disappointment from those opposing, Rock Canyon volleyball was able to secure the win against Vista in circumstances very similar to those of the previous year.
    The match was an especially important one for the volleyball program, as it was both Senior Night and what ended up being the win that gave them the title of League Championships – for the first time in school history. With one one game remaining in regular season, the team is working harder than ever to prepare for the playoffs and the eventual state competition in hopes of achieving first in the 5A division.