Do or Donut: the Best Donut in the Neighborhood
A review of three different local donut places.
What is the meaning of life? What is the best way to raise a child? Who should you vote for in the next election? And, what donut place is the best?
"LaMar's, because their donuts are bigger and they're also delicious," Lauren Esler '24 said. "I would go with Krispy Kreme, but their donuts aren't as big so I feel like I need to buy more."
"Krispy Kreme," Sophia Miller '25 said. "You can't beat the classics."
With all of these opinions, it's hard to know which one to agree with.
So, to settle the debate once and for all, I grabbed my jacket, got in the car, and went trekking all over town to find the best donut.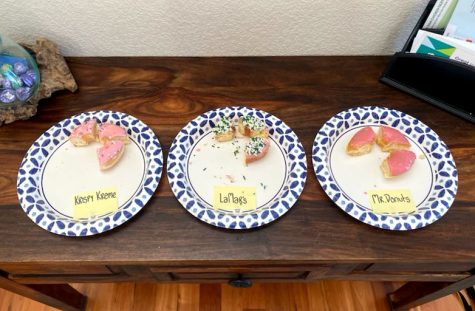 Krispy Kreme Doughnuts
Our first stop on the journey was Krispy Kreme. The parking lot was fairly empty, but once inside, there were around four to five parties waiting in line. 
I was immediately hit with the smell of freshly-made donuts; an aroma of fresh, warm dough, a slight hint of glaze, and a splash of vegetable oil.
The place was clean and reminded me of an old diner with its vintage stools and wood floor. It was pretty big, with plenty of room for seating. There were children watching the donuts being made through a window. But let's move on to the donut.
Ambiance: I liked the feeling of Krispy Kreme. I went in with low expectations but was surprised to see how nice the place was. Their store was full of donuts, despite the constant flow of customers. The staff was friendly and welcoming, and they had a wide variety of flavors.
Price: For a Strawberry Iced Donut with Sprinkles (which I ordered at all three locations), the price was $2.19. Glazed Donuts were $1.99.
Location: The shop we went to was about an 11-minute drive from my house. Not too far, but not super close, either. If you want to check it out, the one I went to was at 7514 E Parkway Dr, Lone Tree, CO 80124.
Presentation: Out of all three donuts, this one looked the nicest. It was both glazed and had strawberry icing. It was an average size, with light pink icing and the perfect amount of sprinkles.
Donut Rating: When I bit into the donut, I was hit with a sugary, intense strawberry flavor. The whole donut tasted like a strawberry lollipop, even when I avoided the strawberry icing. As far as texture goes, the dough wasn't too dense, but it wasn't light either. This donut was my least favorite, and I give it a 4/10.
Overall Rating: The ambiance, presentation, and staff were nice, but the donut was not. I give this establishment a 5/10.
Click HERE to visit Krispy Kreme's website.
Mr. Donuts
After putting the donut in the back seat, we zoomed off to our next location. When walking into Mr. Donuts, a similar aroma filled the air of homemade dough, sweet icing, and oil. The place was the smallest of the three and had a homey feel to it, reminding me of a local coffee shop.
Much like Krispy Kreme, Mr. Donuts had a variety of flavors and designs, including a selection of children's donuts designed with things like Spiderman and rainbows.
There were three or four other groups ordering, and the staff was warm. Mr. Donuts didn't have as much seating, but it was a nice experience.
Ambiance: I liked the feeling of Mr. Donuts. It's a small establishment and reminds me of a local business. Through the doors of the kitchen, you could see workers making the donuts, which added to its cozy feel.
Price: A donut with sprinkles sold for $1.59, and a glazed donut with icing was $1.19, making it the shop with the lowest prices. 
Location: We went to their only location, which sits at around a 12-minute drive from where I'm at. The place is not a chain, so depending on where you live, it might be longer. If you're interested in checking the shop out, the address is Mr. Donuts, 8854 Maximus Dr, Lone Tree, CO 80124.
Presentation: Unfortunately, they didn't have any strawberry donuts with sprinkles. Luckily, I was able to get a regular donut with strawberry icing. This donut was about the same size as the one from Krispy Kreme, and looked pretty appealing, too. The only glaze on the donut was the strawberry icing.
Donut Rating: This donut was, by far, my favorite. It had a wonderful texture: light and airy, and wasn't overly sweet. Unlike the one from Krispy Kreme, the donut itself tasted fresh and doughy, and the icing had just a hint of strawberry. There was a perfect ratio of dough to icing, and it was so good, I ate half of it in the initial taste test. As my ideal donut, I thought it was only fitting to give it a 10/10.
Overall Rating: Although it didn't have the best ambiance, the pros far outweigh the cons. The affordable pricing, unique donuts, and friendly staff made the experience all the better. And who could forget they have the best donut of the trip? Overall, I give Mr. Donuts an 8/10.
Click HERE to visit Mr. Donuts' website.
LaMar's Donuts & Coffee
When we arrived at our final location, the line was so long it was almost out the door. LaMar's has the largest store of the three, and it was packed. 
My first thought, other than fearing they may sell out of strawberry iced donuts before I could order one, was that the place reminded me of somewhere you might go for breakfast on vacation. It was clean, simple, and lively; the perfect place to get a donut or coffee on a Sunday morning.
Unlike the other two shops, this one didn't smell like donuts, nor did it have any limited-time flavors. Instead, we waited with only the sight of the donuts getting served behind the counter, picking from an easily-memorized menu.
Ambiance: LaMar's had my favorite atmosphere. It made me nostalgic since it reminded me of places I would go as a child on vacation in the early hours of the morning. The staff was happy and helpful. I was admittedly the most excited about this shop, and I credit a lot of that to its ambiance.
Price: A Strawberry Iced Cake Donut, along with glazed and sour cream ones, was $2.33, while specialty donuts ranged from $3.79 to $4.29.
Location: The location I visited was around a 7-minute drive from my house. It's a lot closer than the other two locations, adding to the appeal. The address is 9360 S Colorado Blvd B, Highlands Ranch, CO 80126, about 7 minutes from the school.
Presentation: Out of the three, this donut was the least aesthetically pleasing. There was an abundance of sprinkles, making the donut look very chaotic. I had to check to see if there was icing underneath. This donut was also smaller and darker than the other two, on account of it being a cake donut. 
Donut Rating: Since LaMar's did not have a regular strawberry iced donut, I had to get a cake donut with the like icing. When I say this donut tasted homemade, I mean that it tasted as though I had made it in my kitchen; not necessarily bad, but not bakery quality. The donut was dense, but there was a good ratio of dough to icing. To get an accurate rating against regular donuts, I got a regular glazed donut to test, too. That dough was good; nice and airy, not too sweet, and overall a solid donut. Had I not tried Mr. Donuts, this one would have taken first place. I give this donut a 7/10.
Overall Rating: Setting aside the high price, LaMar's makes a solid donut. The ambiance is wonderful and the location is ideal. Overall, LaMar's gets a 7/10.
What is the best donut place?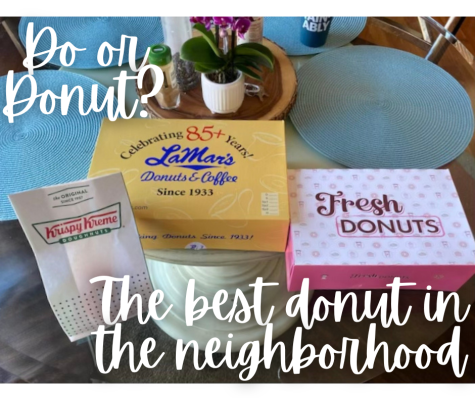 Sorry, there was an error loading this poll.
After writing this article on a sugar high, I think it's safe to say that I'll be steering clear of the donuts for a bit. This was definitely a new experience, and I'm hoping it helps others get the best donut possible, something very important in today's world. I think it's sufficient to say you can't get a bad donut anywhere, but I'd avoid Krispy Kreme the next time I get a hankering for a donut.