The End of an Era is Just the Beginning
A wrestling season recap as coaches retire, the team changes, and history is made.
In 2018, wrestling Head Coach Tim Hill, Assistant Coach Matt Opheim and Assistant Coach Kevin Medina arrived at Rock Canyon, finding a wrestling program with fewer than 10 wrestlers, and 20 years of losing season records.
Four years later, the coaching trio, joined by Assistant Coach Kyle LeValley, ended the season with a fully-stacked team roster, and two back-to-back winning seasons, making the '22-'23 season the best the school has ever seen.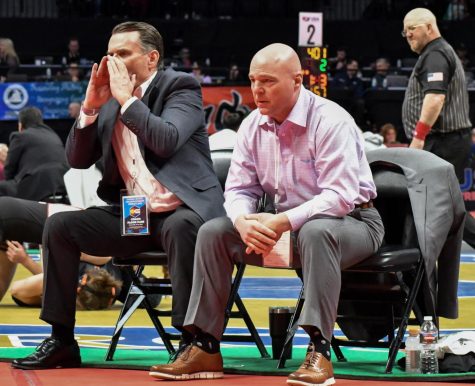 "Let's put it this way: when I was [coaching] at Mountain Vista, we had beaten Rock Canyon 82 to zero. Rock Canyon had what, seven, eight kids on the team?" Hill said. "So, when I came here, I called [the other coaches] up, and I had to tell them to listen to me for a few minutes before even answering. I never thought in a million years I would come here and coach, but it just kinda came together. Even though in the past it hadn't been done, I told them, I know we could build a successful program here. They jumped on board."
Previously, Hill has coached a total of 26 years, including time in college, 14 years at Norwalk High School in Iowa, then six years at Mountain Vista High School (MVHS) before taking a 12-year break from coaching and finally becoming a Jaguar.
"I wanted to finish my career and retire in education as a coach. I still had some more to give to wrestling, but [at MVHS] I became an administrator. When I became an assistant principal, I couldn't also coach at that point. So that's when I changed schools, and came here," Hill said.
The season began with practices Nov. 14, 2022, followed by a scrimmage hosted by Cherokee Trail High School wrestling Nov. 26 and the first tournament at Arapahoe High School Dec. 3. The team's first dual meet ended with a 48-22 W, upsetting Ponderosa High School, the second ranked team in the state Dec. 6.
"My goals were typically to help kids reach as close to the max of their potential as possible, and being able to put yourself in the athletes shoes regularly and set aside that ego as a coach is really important," LeValley said.
"You have to be relatable, and understand, 'what's gonna motivate this person? Why are they here?' And keep your composure with respect to that. It's easy to get frustrated based on my own beliefs or my own limitations, and I don't know that that's productive. We had a wide spectrum of people with varying goals and objectives, varying levels of commitment. Some people did a really good job, and some people really underachieved."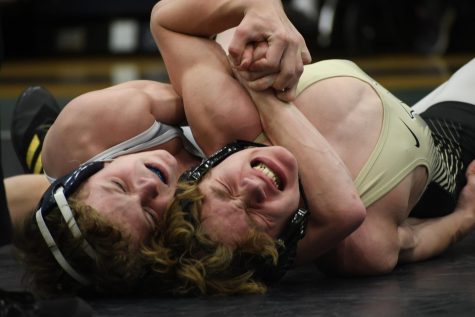 Led by team captains Alex McGowan '23, Kaden Rahne '23 and Sammy Mobly '23, the wrestlers continued through their season. On Jan. 26, the Jaguars took on MVHS, Highlands Ranch (HRHS) and ThunderRidge (TRHS) at the annual Battle of the Ranch quad meet. 
"The only regret I have is we've never won Battle of the Ranch," Hill said. "Back in about 2003, I created it — and created the traveling trophy — so when I came here, that was one of my goals, and unfortunately, we came very, very close to pulling it off but it didn't happen. You don't get everything you want, so the teams that are now going to be after me, they'll have to achieve that goal."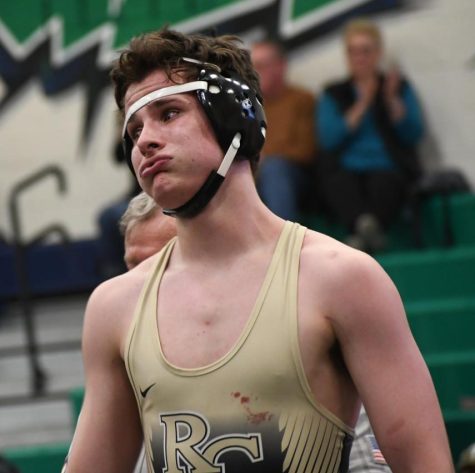 The varsity team beat TRHS, then beat HRHS 54-20. The meet ended with the wrestlers losing to MVHS 33-36 and taking second place overall.
"We only lost by three points, which didn't feel great. It came down to a couple matches," varsity wrestler Allen Hurd '26 said. "Most of our good [wrestlers] are seniors, so it's not the best to see them all leave, but we'll make it."
Two days later, on Jan. 28, the teams competed at League, hosted at Legend High School. Varsity ranked eighth out of eleventh, while JV took second in JV League.
The following week, Senior Night was hosted in the home gym against Valor Christian High School (VCHS). The varsity and JV teams honored 14 seniors at their last home meet by displaying senior photo boards and announcing facts about each wrestler as they walked out, accompanied by a family member or friend. The JV team beat VCHS 24-21, and varsity won 42-32.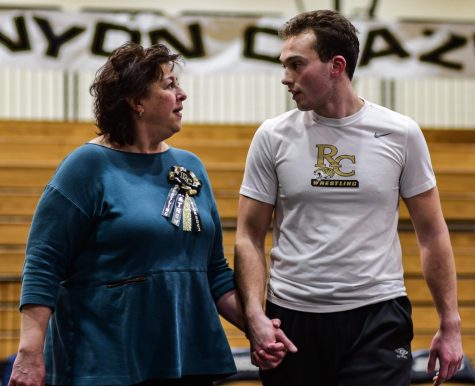 "Senior night was a lot of fun. I am proud to represent Rock Canyon and it was nice to be recognized under the lights in front of our home crowd. The celebrations were very well put together and the night was well done," JV wrestler Mathew Kochevar '23 said. "It is sad that I will never wrestle on our mats again, but that is the nature of the beast. My high school wrestling career is over, but I am not done wrestling."
The season ended with a 7-3 win/loss record for dual meets, including wins against Arapahoe, Legend and Rangeview High Schools. After the two-day Regionals tournament Feb. 10 and 11, three wrestlers qualified for state: Kaden Rahne '23, Sammy Mobly '23, and Cooper Chase '23.
The State Championship lasted three days, running from Feb. 16 to Feb. 18, and was hosted at Ball Arena in Denver. Chase wrestled in the 190 weight class, alongside Mobly in the 157 weight class and Rahne in the 152 weight class. 
In the first round matches Feb. 16, Chase and Rahne lost by pin, sending them to the first round consolation matches that took place Feb. 17, and Mobly won by major decision 9-0, moving on to the quarterfinals Feb. 17.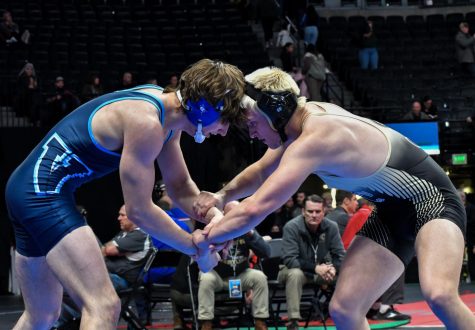 On day two Feb. 17, Mobly won by pin in the quarterfinals, then won again by decision 3-1 in the semifinals, sending him to finals the next day and making school history as the first Jaguar wrestler to win in State semifinals. Rahne won by major decision 15-6 in his first round consolation match, then lost by pin in the second round consolation match. Chase won his first consolation match with a pin before losing by pin in his second consolation match.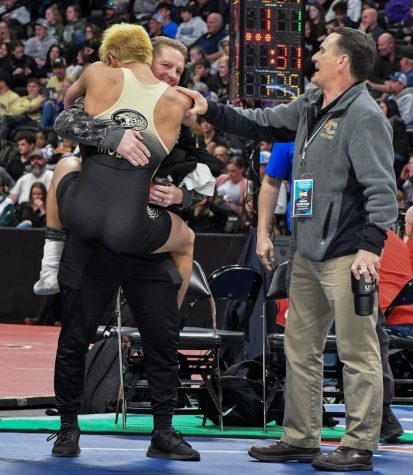 "There's nothing like wrestling at State," Chase said. "Getting to wrestle with thousands of people watching you is crazy. It really meant a lot to me because it's a goal I've been working on for a very long time, and to go there is the greatest feeling in the world."
By day three Feb. 18, Mobly was the last Jaguar wrestler remaining, but wrestling teammates, family, and friends continued to show up to watch and support. The day began with a "Parade of Champions," where all finalists walked a lap around the arena for viewers to see.
Mobly wrestled Daniel Long '23 of Adams City High School for the 5A 157 pound State Championship and lost 3-1 by takedown in sudden death during overtime, taking second place. 
"I was honestly just stunned," Mobly said. "I knew that was the only chance I'd get at that title, and it was all taken away in just a couple seconds, so it was tough to get the energy to stand up and shake the other wrestler's hand knowing he just beat me.
"I don't regret anything. I did everything I could to have a chance at my biggest goal and I put myself in a position to make it possible. Wrestling has taught me more off the mat than anyone could imagine, and there are countless lessons to be taken into all aspects of life."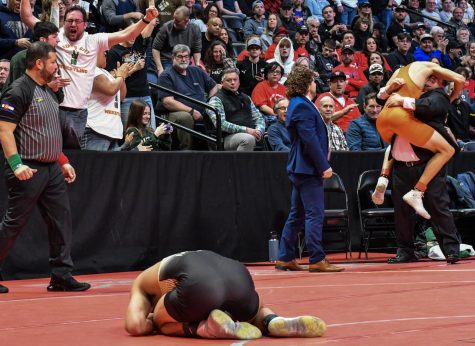 The team overall ranked 19 out of 47 teams at State.  
"This school, out of all my coaching experiences, has been the best as far as parental support and also administrative support," Hill said. "One favorite memory from all of [coaching] is coaching Sammy in the finals for sure, and watching him develop over four years. He's one of the best wrestlers I've ever coached. We've also got a great athletic director and great principal. All three of us [coaches] are leaving, this was our final chapter. But, once you're a wrestler, you're always a wrestler. It's a family."  
Leave a Comment