Take a Sneak Peak of the New Teachers' Lounge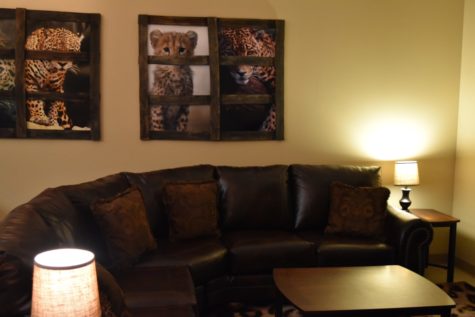 Step inside the teachers' lounge hidden within the 2000s pod and you'll experience a newly renovated space filled with amenities necessary for relaxation during planning periods and lunch hours.  The polished leather couch is illuminated gently by the tiny lights dangling from the ceiling.  Recline against the cushions as you turn on the large television.  Tired?  Brew a pot of fresh coffee while you sit upon the tall stools beside the kitchen table.  Everything is glistening with newness and cleanliness but something is missing.  Where are all the teachers and members of administration?
Even during the lunch hour, the room is quiet.  For staff members such as Spanish teacher Margaret Motz, the lounge is a rarely accessed area of the school.  
"I've only gone twice.  I'm not very social," Motz said.  
Despite the fact that her attendance to the room has not increased since the lounge's remodel in December, Motz does enjoy the large couch and claims it as the favorite feature of her few visits.  
"It's a comfortable place to sit and relax," Motz said.