Eyes on the Pies
Interact Club partners with Free The Girls to promote awareness of sex trafficking through speakers, donations, bracelets–and pies.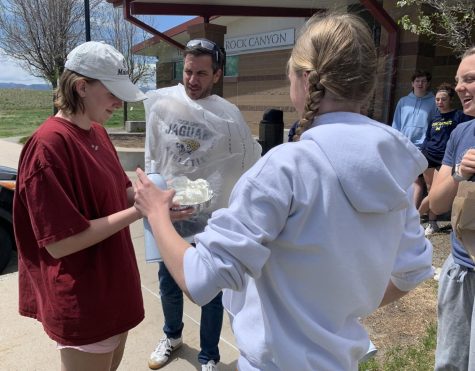 A tinfoil dish gets filled with whipped cream. Teachers arm themselves with protective plastic covers. The dishes are thrown.
Splat.
While kids may laugh, joke and enjoy the entertainment, there's a more serious reason behind it.
At Interact Club's "Free The Girls" human trafficking awareness event April 28, students were encouraged to donate money to the cause through the sale of baked goods and bracelets, donations to pie teachers, and more. If $50 or more was raised for a specific teacher, students got to pie the teacher on camera, filmed by RCTV. The event also included speakers and service hours for attendees.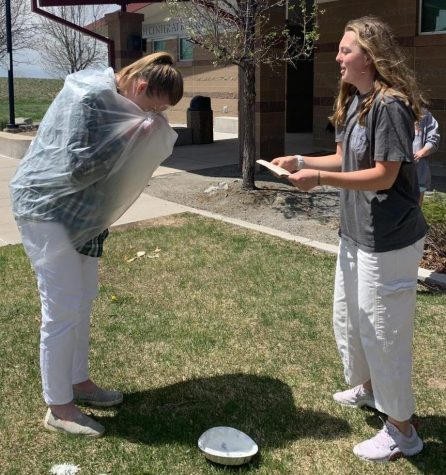 The teachers pied included Susanne Petri, Matt Sassali, Wes Chapman, Aaron Paul and Jeffrey Nichols. Pieing took place in the outdoor classroom May 2 and May 4 during Seminar and Access.
"I wanted to pie Chapman because he deserves it," Kristie Vetter '25 said. "I'm in his U.S. History class. I had so much fun. It was so exciting and I hope he still has whipped cream in his ears."
Petri raised the most money, with a total of about $83.
"I really want to take a shower [now] but I did sort of advertise to kids to [donate]," Petri said. "I am so happy to support Interact Club, specifically Katie Dupper and Haley Vetter, in bringing awareness to human trafficking."
In total, $500 was raised and donated to Free The Girls, a nonprofit organization that supports sex trafficking survivors and promotes awareness of sex trafficking.