Stretching and Stressing
Find out about the efforts, commitments, and balance needed to manage sports with school.
Picture this:
You practice your favorite sport after school for a few hours. After practice ends, you take off your gear, head home and feel relaxed… until you realize that you have an English essay, a History quiz and a Chemistry lab all due that night. Hectic, right? This is the daily life of a high school athlete.
From practicing and exercising to getting assignments done and maintaining good grades, it can be overwhelming to athletes and their schedules. It might seem like it isn't a huge deal but to high school athletes, days can be chaotic and exhausting.
According to an Instagram poll conducted by @rcrockmedia on May 12, student-athletes were asked how many hours they spend practicing for sports per week.  
129 students responded:

14 (11%) voted one to two hours a week 

15 (12%) voted three to four hours a week

19 (15%) voted four to five hours a week

81 (63%) voted six or more hours a week
According to an Instagram poll conducted by @rcrockmedia on May 12, students were asked how many hours of homework they receive per week.
137 students responded:

38 (28%) voted one to two hours a week

37 (27%) voted three to four hours a week

22 (16%) voted five to six hours a week

40 (29%) voted seven or more hours a week
According to a study conducted by ncsa.com, 90% of student-athletes who compete at the college level previously compete for a spot in high school sports.
According to a study conducted by statcrunch.com, the median GPA for a high school athlete is 3.7.
*National College Scouting Association (NCSA) is a national organization that connects college coaches to high school athletes for multiple sports. NCSA offers scholarships and recruiting advice to student-athletes.
You may be wondering how athletes cope with their packed schedules. Here's how some players from different sports manage their time effectively: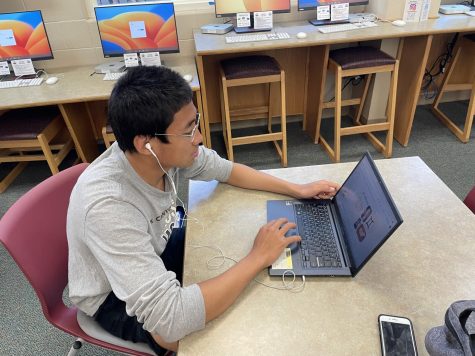 Nathan Shrestha '25 – Boys Track & Field
"I normally space out my homework evenly throughout the week, so that I don't end up procrastinating," Shrestha said. "I'm taking a few AP classes and I'm in other clubs, so I try to focus on managing my time more efficiently."
Alivia Eikenberg '25 – Girls Volleyball
"It can get overwhelming with the high school season because we have practice every day for two and a half hours, and [have] about one to three games per week," Eikenberg said.  "I spend around an hour every day doing homework, and sometimes I do get overwhelmed with my schedule."
Ashleigh Wilson '25 – Girls Golf
"I try to maintain good time management, however, I do often get really overwhelmed by my classes," Wilson said. "I spend an average of two hours a day doing homework outside of school."
Aidan Brock '24 – Boys Lacrosse
"I try to make sure I get as much homework done while I'm in class. I get overwhelmed when I have projects and tests, so I usually spend around an hour or two to prepare myself," Brock said.
Mac Terry '24 – Boys Basketball
"During the season, most days are the same, where I go to school, then I have practice and then I go home to do homework," Terry said. "I like to get ahead in my school work so I have time to hang out with my friends and family."
Ava Todd '23 – Girls Soccer
"I spend about two hours a day practicing, and about an hour and a half on homework," Todd said. "Whenever I have time, I get [school work] done so that I don't have to worry."
Peyton Howey '23 – Girls Tennis
"While I do think it's important to have time to relax, my first priority is always making sure that everything I need to have done is done," Howey said. "I usually have practice for around two and a half hours after school and work for another five hours, but it's way more doable than it sounds since I use my resources, like Access and my off, to get everything done."
 Sen Yakandawala '26 – Boys Volleyball
"For the most part, I try to stay on top of all my work and finish things as soon as possible," Yakandawala said. "Yes, it often does get overwhelming, but I try to stay positive and put in the needed work.
One of the main challenges in balancing a schedule is procrastination. According to a study researched by the educational company Magoosh, around 86% of students procrastinate on assignments.
Leave a Comment