It's 8:00 a.m., Aug. 8. Over 500 freshmen walk through the school doors, about to begin their high school journey. Whether they're excited and prepared, or lost and unsure, there is one thing that they can all be certain of: waiting for them in the gym are more than a hundred upperclassmen, ready to cheer them on and help them find their way.
Those upperclassmen are part of Link Crew, a student group in charge of freshman orientation. Composed of juniors and seniors nominated by teachers the spring prior to the new school year, these students are tasked with giving the new class tours of the school building, helping them meet other freshmen, answering questions, and more.
"It's fun. I love helping all the upcoming freshmen and being a face for the freshmen and [helping] show them around," Link Leader Kyia Sparks '24 said. "I really enjoyed learning all the fun games that we get to do because it's just us playing for a little bit but we're also learning how to teach the freshmen as well."
Aside from receiving nominations, in order to be a Link Leader, the nominated students must sign a contract agreeing to participate in the training and follow the rules.
After filling out the contract, Link Leaders attended a training May 23, known as "May Day" in the gym. Led by Link Crew Teacher Sponsors Hannah Klein and Karly Bloom, this day involved registration, meeting the other leaders, and learning the games the students get to play with the freshmen as icebreakers.
"It was a great experience for me. It was so fun and interactive and I loved getting to be good friends with my fellow leaders," Link Leader Elsa Swanson '25 said. "I chose to do it because I thought it would be an interesting experience and I also thought it would be a fun way to get community service hours."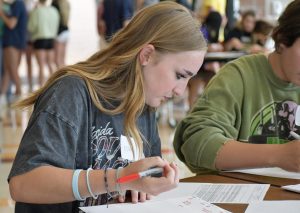 After the summer passed, Link Leaders returned to the school a few days before the majority of the Jaguar population for training and preparation days Aug. 4 and Aug. 7.
These two sessions, which lasted 10 a.m. to 4 p.m., consisted of more practice ice breaker games, review of information the freshmen needed to know, and more.
Students were divided into groups of two to three, each group assigned half of a freshman Seminar to lead around on orientation day.
The Link Leaders were also in charge of handwriting a name tag for every single member of the class of 2027, painting welcome banners, and making signs for different last names and Seminar teachers.
That night, the Leaders took the time to call each freshman in their given group to invite them to orientation and ensure they had the right information.
"I had a blast being a Link Leader, I think it's a great idea to give the freshmen a mentor in the school and the chance to check out the school," Link Leader Matt Hardin '24 said. "It's a super cool opportunity to showcase what our school has to offer to our new students."
The next morning, Aug. 8, Leaders arrived at 6:30 a.m. in matching Link Crew sweatshirts to put up the signs, get music playing, and overall prepare for the students attending orientation to arrive. Some upperclassmen chose to dress up in attire such as leis, beads, sashes, cowboy hats, and more, offering the attire to their group of freshmen as well.
"After seeing the way the freshmen opposed obnoxious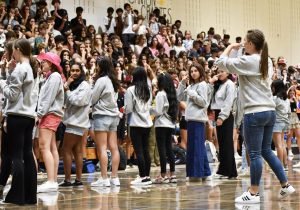 things last year, my co-Link Leader and I decided that we were going to do simple beaded necklaces so that they could wear something that wasn't flashy and attention-drawing," Gustafson said. "That's the last thing a freshman wants on their first day, but then we were still able to identify them."
Members of the class of 2027 spent their morning with the Link Leaders before having lunch, getting their photos taken for Picture Day, running through their class schedule and meeting teachers. After the Link Leader students completed their jobs, they received 15 hours of community service.