Another Win for Boys Varsity Lacrosse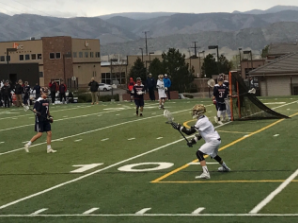 Rock Canyon's boys varsity lacrosse team played Chaparral High School at Shea Stadium, Tuesday April 25, taking home another win with a 9-3 final score.  
    "The team is looking very strong this year," Calvin Ewing '19 said.  "I love the competition of lacrosse games and seeing Rock Canyon represented by its students," Ewing adds.  Many of the students at the school have attended the games this season, under and upperclassmen alike.       
    "I like going to lacrosse games because it is fun to watch a game that you don't know much about.  It's fun to learn about lacrosse and be with friends while doing it," Annabel Lockett '20 said.  "My first year of high school has been fun because I've gotten to go to many football, basketball, and now lacrosse games."  As the seniors prepare to end their final year of high school, many of them have vowed to attend as many sporting events as possible.
    "I want to remember my high school experience, so my friends and I have gone to as many games as possible, even though the spring lacrosse games are sometimes very cold," Annie Martinez '17 said.