Biotech II Finishes the Year Strong
Biotech II wraps up their year with their annual symposium where they showcase their work.
Hang on for a minute...we're trying to find some more stories you might like.
The Biotech II program came to a close on its second year of research Thursday, May 4 in the 4000 pod of Rock Canyon. The whole year build up to a main symposium, where students present their research to friends, family, mentors, teachers, and college advisors.
"It's really important for us to do our best at the symposium because that's when our college advisors decide to give us credit or not" student Tessa Rowe '17 said.
During the year 12 teams of students created, designed, and executed novel research with the help of professional mentors. They also wrote a research proposal, journal article, and created a poster to display their work.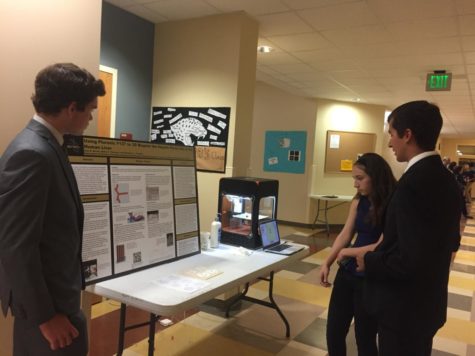 Sam Martin '17 and Bailey Timmons '17 show off their 3D bio printer and year's worth of research to a student at the symposium. "Our project involved using the bio printer to print a liver vein that could be used in liver transplants," Martin said.