When is the Right Time to Start Listening to Christmas Music?
Denver's radio station KOSI 101.1 starts playing Christmas music every year on Nov. 1 and continues until Christmas. Some people think that November first is incredibly too early to start the Christmas songs and holiday vibes while others think it can't start soon enough.
"I think that the normal time to start listening to Christmas music is the beginning of September. It should start in September, and you should listen to it right until Christmas, but once Christmas is over, you have to stop Christmas music right there and then don't do anything Chrhistmas-ey after that. Take a complete stop, wait until next September, and listen to Christmas music for the next four months. The only good Christmas music is from Frank Sinatra, Harry Connick Jr., Dean Martin, and Elvis Presley," Lydia Cooper '22 said.
Cooper loves the holiday season because she enjoys the holiday fashion of rabbits. She likes putting Christmas sweaters on her pet rabbit, Milo Cookie Cooper.
While Christmas may seem far away, most students are listening to Christmas Music already this holiday season. In fact, 53.5% of RC students have begun to listen to Christmas music as of the day after Thanksgiving. This year, Thanksgiving fell on the earliest Thursday it could, but that didn't stop jags from busting out those holiday tunes.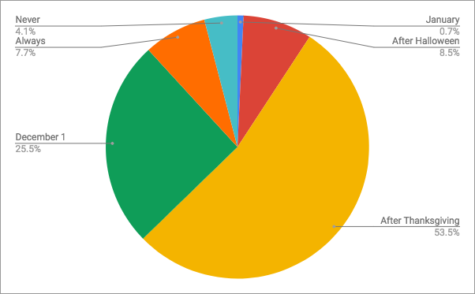 "It has a fun, exciting theme to the music that makes me excited for Christmas," Jakob Zuckermandel '21 said.
"Every single hour of every single day of the year is the best time to listen to Christmas music because it lightens the mood, and it just brightens the day. The only good Christmas music out there is the Beach Boys, Mariah Carey, and Elvis Presley's 'Blue Christmas'," Allie Merritt '22 said.
Merritt likes the seasonal Christmas foods and looking through holiday magazines.
"I think after Thanksgiving is the best time to listen to Christmas music. Spending Thanksgiving with family gets you more excited for the holidays and gets you into the Christmas spirit," Madeline Keller '20 said.
Positive holiday vibes can put one in a great mood, and Christmas music is one of the most festive ways to celebrate the season.
"I start probably earlier than most people. I started this year November 1 because I think it's the start of the season, right after Halloween," Kinley Rex '20 said. Rex enjoys that the Holidays are a time when family and friends come together. Rex also likes that it is a time of giving as well.
While some enjoy starting the holiday season in the months that come before December, others feel differently about the proper time to start Christmas music.
"If you listen to Christmas music before December, you are a sociopath," Abigail Gertzen '20 said.
8.5% of people started listening to holiday music right after Halloween.
"You are in the holiday season [after Halloween], and it is that time of year, and you can start listening to [Christmas music]," Sarah Flowers '22 said.
Some people never listen to Christmas music while others have it playing all year round. If you haven't yet answered the survey, answer the poll below to let theRock know when you think holiday music should make its appearance.

Loading ...