reLAX it's only snow
Boys lacrosse teams take on Cherokee Trail in a scrimmage March 2. The boys used the scrimmage to have a food truck fundraiser to help raise money for the team.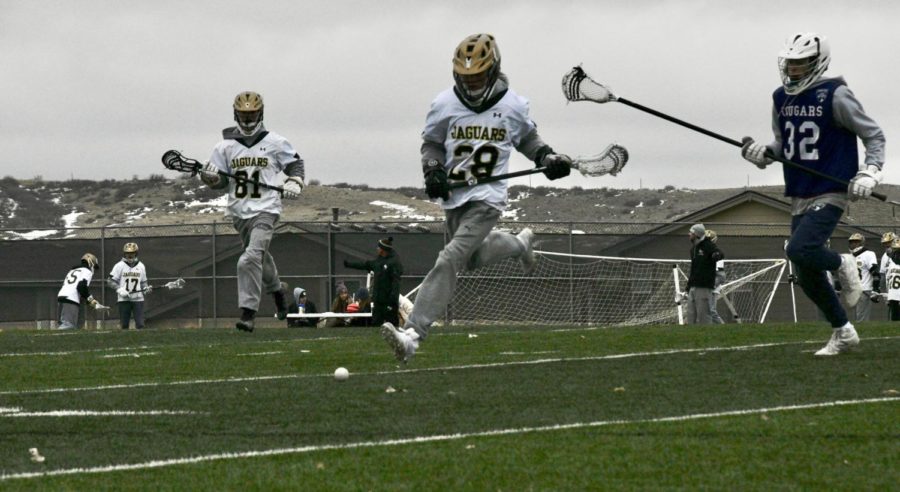 by Sam Keer, Managing Editor
March 5, 2019
Rain or Shine the game must go on, but in the case for boys lacrosse, it was cold and snowy.
"It was really really cold, but I enjoyed watching the games," Izzy Paul '21 said. "My little brother played lacrosse so it was great to be around the sport again."
While the temperature ranged from 30 degrees to six degrees and snow flakes were falling from the sky by the end of the events, all levels of the boys lacrosse teams scrimmaged against Cherokee Trail High School March 2. 
"It was really cold outside but it was super fun to watch the guys play, they won and worked hard for it," Marissa Jimenez '20 said.
The boys sold tickets to the four food truck for ten dollars that could be used during the game and would help go towards the program. However due to the cold and snow only one food truck, out of the four promised showed up.  
"Even though it was cold, I still enjoyed playing with our team and seeing how we play as a unit," Jv player Dillon Martinez '20 said.
The level three team played on the grass field and jv played on the turf field from 11 a.m to 12 p.m, while varsity played 12 p.m to 1 p.m on the turf. All three teams beat Cherokee Trail, jv 5-0 and varsity 6-2 .
"The lacrosse team practices in cold weather no matter what," Ryan Grafitti '22 said. "The cold may have affected the other team but not us. We all went out and put forth our best effort and it paid off."