Student Activism Highlighted In Open Mic Night
The Human Right's Club hosted their second annual Open Mic Night to raise money for the Amnesty International Human Rights Campaign.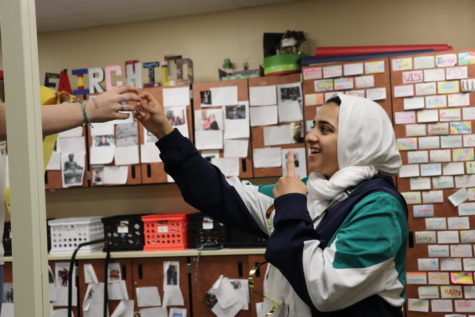 Voices, mingle with the static of the microphone as they illuminate the crowd of eager ears to the power of activist expression.
Friday, April 5, from 6:00 to 8:00, the Human Rights club held an open mic night where people could speak, sing, or even play an instrument for human rights in room 2100. The admission fee was five dollars and went towards Amnesty International's Human Rights campaign. There were tables set up that held numerous petitions for participants to sign and a table of snacks. The evening started out with a poem about love from Leah Fairchild. From there, were performances highlighting the impact of the Syrian War on children, personal experiences with the Women's March, anti-vaping poems, dad jokes, violin performances, and even an anti-rape rap. The Amnesty Open Mic Night became a safe space to speak passionately about personal beliefs and what club members hoped to societally accomplish in the future. The Human Rights Club had originally planned to have the Open Mic Night on Friday, February 22, but thought strategically and moved this event to a day where more people would be able to attend and perform. 21 dollars were raised by this event.
"The biggest accomplishment of open mic night was that people came and performed their own work or the work of others and it meant a lot to them and it was really interesting to see what people had to say," Club President, Natalie Aston '20 said.
The tradition of Open Mic Night started with last year's Amnesty Club leaders, Olivia Voss '18 and Sierra Zizzo '18. They branded it Jamnesty and had many performances as well as the local band, The Beeves.
Next year, the Human Rights Club plans to focus on their other main event, the Write for Rights event more. They believe that it will play to the strengths and interests of the student body. "The write for writes event was really successful because teachers offered extra credit," Aston said.
The Open Mic Night was an experience that the Human Rights Club is learning from and they are adapting their events and efforts to better fit the student body.
Derek Fearon '20 Anti-Vaping Poem:
https://drive.google.com/file/d/1I-NInVwFvrOQIsFg5eWxyYe-UDYYfClu/view?usp=sharing
Brooke Hawkins '20 Dad Jokes:
https://drive.google.com/file/d/1Qzwtl-je-D1xabIF_GjDOO4l-agJe_Fj/view?usp=sharing
Natalie Aston '20 and Brooke Hawkins '20 Violin Performance:
https://drive.google.com/file/d/1pNvpF6oyOzr6IziA-PTM_1njrb2OrZui/view?usp=sharing
Noah "The Cobra" Stickney '19 Anti-Rape Rap:
https://drive.google.com/file/d/1CxWiclGpo7plDMLVEwjqiLwHuJ1L8Acm/view?usp=sharing