Unexpected Elevator Experience Bonds Baseball Players
Enthusiastic dancing to music caused four members of the boys baseball team to spend an hour trapped in an elevator together.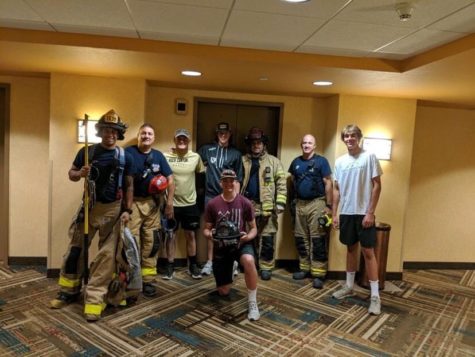 Trapped between floors two and three, Spencer Gill '20, Justin Petterle '20, Nick Krob '20, and Peyton Vali '20, players for the boys baseball team, spent an hour confined in an elevator Sept. 13. They were at the Embassy Suites in Albuquerque, New Mexico for a baseball tournament and attempted to return to their hotel room, but their enthusiastic dance moves to the bass drop in the song "Juicy Wiggle" by Redfoo triggered the elevator's emergency brake system. This caused the elevator to stop between floors and box in the baseball players.
"We knew we got stuck when it said we were at floor #2 and the doors did not open. We were lucky that it was an elevator with windows so we could see where we were," Vali said.
They alerted their parents to call hotel management and the baseball players were eventually rescued by the fire department. While they waited to be freed, the baseball players continued to jubilantly dance to energetic music and exchanged phone numbers. Bystanders below the elevator took pictures and found humor in the spectacle above them.
"It will be a memory that we'll all cherish together," Gill said. 
Petterle, Gill, Krob, and Vali escaped the elevator and this group of baseball players regarded their time trapped together as a bonding experience. They learned the risk of vigorously dancing in an elevator and explained that they found the positive in this situation and enjoyed their time together.