Students Search for Answers and Cures With Biotechnology
Biotech students pitch their long-awaited research pitches to teachers, parents and researchers in pursuit of resources and donations.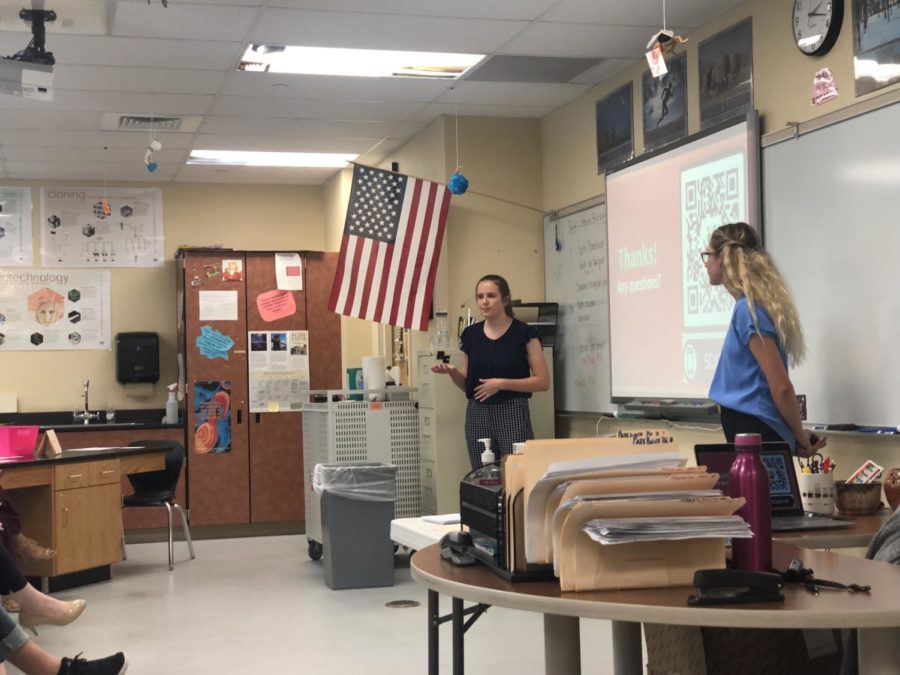 by Jana Seal, Editor In Chief
September 18, 2019
In a classroom full of science teachers, parents and researchers, 2-4 students prepare to present their Power Points. These presentations are not an everyday school project, however. They are the beginnings of intensive research projects in Biotechnology.
Monday Sept. 9 through Friday Sept. 13, students presented their designs and methods for their research projects.
"The whole process started last year at the end of last year. They had to come up with their project idea, and they spent the summer writing kind of the rough draft of their methods," RCHS Biology teacher Nikki Dobos said. 
When coming up with their project ideas, students reflected on causes that they hope to contribute to. Some students had a personal stake in their research, and some chose topics based on their mentor's area of study. Students pitched research on a variety of real-world, consequential issues such as cancer cells, the effects of Lexapro (an antidepressant) on stem cells, and artificial sugars' effect on insulin, to name a few.
"We are doing research on the effect of artificial sugars on Islet beta cells, which are cells from the pancreas that produce insulin. We want to see if artificial sugars cause the Islet cells to produce insulin. If they do then artificial sugars could be contributing to type 2 diabetes because of the repeated insulin spikes," Biotech student Alana Graves '20 said. "My team (Kaylee Kabza '21 and Ian Fleming '20) wanted to do this research because we all have family members who are impacted by diabetes. Ian has type 1 diabetes and wanted to research something personal to him."
In each presentation, students included the following: Hypothesis, experimental design, proposed methods, experimental flow, control and constant variables, timeline, safety precautions, and their mentors. At the end of their presentations, students explained their short-term goal, long-term vision, budget, project website, and then opened up for questions from their audience.
The purpose for these pitches is to give researchers and parents the opportunity to ask questions and observe the research pitches as potential investors, so that they can consider contributing. Because the projects are so intensive, students, after planning them, are left with a sum (around $100-$400) of money that's needed in order to complete their research effectively. Donations from the RCHS community have improved the quality of their research.