Everything You Need to Know About Yearbook Distribution
Delayed almost two months due to coronavirus lockdown, yearbooks will finally be distributed June 24-25. Here's everything you need to know. From the staff of the Black and Gold.
Getting Your Book
Yearbook distribution will be June 24 and 25 from 11 am-2pm both days. We are so excited to finally pass out yearbooks to students, but we remain cautious and conscientious of safety. 
Distribution will be held entirely outside, in the lower (student) parking lot. Students will park and walk up to a table that corresponds with their section of the alphabet (A-M or N-Z). There, they will show their student ID to a yearbook staffer, the staffer will check off the student's name on our list, and your student will be handed a yearbook. There will be designated spots, six feet apart from each other, where students will stand in line for their books. There will be a separate table for students who need to purchase yearbooks.
We will have a small group from our yearbook staff helping to pass out books, they will be wearing gloves and masks. We ask that students also wear masks and maintain social distancing during this event. If you are feeling sick or are symptomatic, please stay home, we can get you your yearbook later in the year.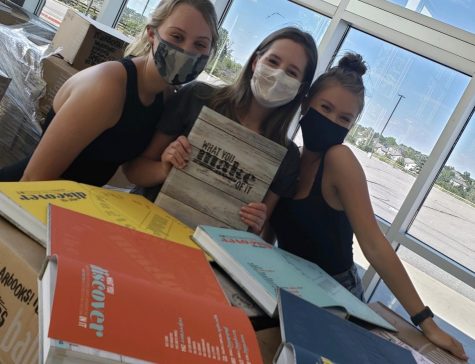 Student Checklist for Distribution: What to Bring
Student ID

A mask

$100 cash or card (for students who need to purchase a book)
I Can't Pick Up My Book on Those Dates, What Do I Do?
Someone can pick up your book for you

If you're having a friend or a parent pick up a yearbook for you, email

[email protected]

with your name and the name of the person who will pick up your book for you.

We will check for this email before handing a book to that person.

If you're an underclassman:

We will have another distribution in fall, when school starts again. All of the books will be kept in school and you will still have an opportunity to purchase a book this fall.

If you're a senior (Class of '20): 

We are looking into another distribution event later this summer for seniors. Your books will also be available for pickup this fall, if you cannot get one this summer.
How Do I Check If I Purchased a Yearbook Last Fall?
Sign into Infinite Campus

On the left hand side, in the menu, select "

Fees

"

Make sure that the fields: "2019-2020" and "All" are selected

If you purchased a yearbook, there should be a line item entitled "RCHS- Yearbook"
If you do not see this, but believe that you purchased a book in advance, email Bookkeeper Donna Rotter ([email protected]). 
I Didn't Buy a Book Earlier, But I Want One Now.
We have 190 extra yearbooks for students who did not purchase a book earlier this year. Each book will be $100, we do not accept checks. We will accept cash or credit cards. You can purchase a book during distribution, June 24 and 25. 
How Do I Get Quicker Updates About Distribution?
Our social media is more quickly updated than email. Follow @rcbgyearbook on Instagram or Twitter for more timely updates and information about distribution.
I Have A Question, How Do I Contact the Yearbook?
The best way to reach us is by emailing [email protected]. You can also DM us on Twitter or Instagram, @rcbgyearbook, but sometimes DMs are hidden so we do not see them as quickly.