Climate Change: How It Intensifies the Wildfires in the West and the Simple Ways You Can Help
The East Troublesome and Cameron wild fires are spreading across Colorado, learn about what causes wildfires and what intensifies them.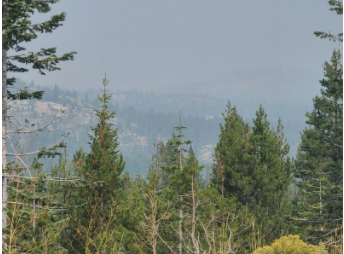 Climate change. It is a phrase we have all heard. We have heard of ice caps melting, sea levels rising…but have we really ever seen it in action? The answer is yes. 
Wildfires are ravaging the west, and some are the largest, most devastating wildfires ever seen across several states. 
"Wildfire in western U.S. federally managed forests has increased substantially in recent decades, with large (>1000 acre) fires in the decade through 2012," according to the Rocky Mountain Research Station. "These changes are closely linked to increased temperatures and a greater frequency and intensity of drought."
Since January, wildfires have been more catastrophic than those of years past. This January, the wildfires in Australia burned 15 million acres of land, killing everything in their paths (Matt Zarell, ABC News). The fires are getting larger, and this has a correlation with climate change.
A Science Daily article by the University of Anglia, a public research university in Norwich, England, states, "Rising global temperatures, more frequent heatwaves and associated droughts in some regions increase the likelihood of wildfires by stimulating hot and dry conditions, promoting fire weather, which can be used as an overall measure of the impact of climate change on the risk of fires occurring."
These wildfires are worsened by climate change, CBS meteorologist Jeff Beradelli said. Western states are also hitting all-time records for high temperatures. 
"Statewide annual average temperatures have increased by about two degrees Fahrenheit over the past 30 years, and this trend is statistically discernible from the year-to-year variability," said Jeff Lukas of University of Colorado Boulder. "Four of the six warmest years on record (since 1895) have occurred in the period from 2012 through 2017."
Climate change affects the atmosphere, which in turn affects the wildfires and other weather events.
"The attributes of the jet stream at any given moment are determined largely by the placement of hot and cold air masses and the strength of the gradient between them," Berardelli, said, "Because the Arctic has been warming at three times the rate of the rest of the globe, climate scientists know human-caused climate change is throwing the jet stream off-kilter."
The rising temperatures and droughts across the country also contribute to the intensity of the wildfires. 
"Climate change can lead to observable changes in short-term temperature and precipitation patterns, which impact ecosystems,"  Environmental Science teacher and Eco Club sponsor Jenny Sickle, said. "This can impact the frequency and intensity of wildfires."
Climate change also has a connection to other weather events. 
"As we see an increase in overall temperature across the globe, we are also seeing an increase in the number and severity of extreme weather events," biology teacher Nikki Dobos, said. "This includes warmer and drier conditions in areas like Colorado or California. The summer season is also lasting longer because of the extreme heat which extends this dry season and increases wildfire risk."
Wildfires have drastic impacts on people's lives: the wildfires have burned homes, cities, and businesses. 
"The fires are destructive and unpredictable so that my family is very aware of them, and the possibility of our house burning is real," Carol Brown, who lives in California and is the grandmother of Bennett Edlund '21, said. "The fires are a reminder of the frailty of life. The smoke is oppressive and greatly limits [and] discourages outdoor activity. We have relatives [who] and also know of others who have lost their homes in the fires."
The fires are devastating lives, livelihoods, homes, and everything else people hold dear. 
There are many things you can do to help. You can recycle, reduce your use of plastics, and decrease your carbon emissions. This helps to limit your environmental impact and therefore reduce the temperatures resulting from global warming. There are very simple things you can do to help achieve this goal:
Charge your phone on airplane mode. This actually helps your phone to charge faster, therefore reducing your electricity usage. 

Use reusable bags at the grocery store. The less disposable plastic bags, the better!

Bring your own water bottle. Don't buy the single-use ones. 

Think about your environmental impact. Are there things you can limit or do without?

Eating less meat can also help with greenhouse gas emissions (

BBC News

). It takes much more land, water, and energy to produce a pound of meat than a pound of vegetables.

"Check out clean meat," Dobos said. This can reduce your carbon imprint and greenhouse gas emissions. If you do want to eat meat, try clean meat, which is lab cultivated meat. 

Support environmental organizations such as the World Wildlife Fund and Greenpeace.      
The Eco Club at RCHS is currently making efforts to help climate change.
"Eco Club members choose projects each year to improve campus sustainability and awareness," Sickle said. "Last year, we placed a bulletin board in the 3000 pod hallway to display information about events, including the wildfires in Australia."
The Eco Club is also promoting carpooling in order to reduce greenhouse gas emissions (this has been put on hold due to COVID-19). The club is also working on providing information about different foods and their sustainability to help members of the school community make more green choices. 
Teachers are also informing their students on the importance of their impact on the environment. 
"I teach students that they can have an impact on climate change by looking at their own choices they make each day," Dobos said. "The effect they can have on climate change can be as simple as the food choices they make."
     To help with the current wildfires, you can donate to the Red Cross at https://www.redcross.org/get-help/how-to-prepare-for-emergencies/types-of-emergencies/wildfire.html.
For more information, go to: