Varsity Softball Moves On To "Elite Eight"
Varsity Softball progresses to their second round of playoffs Oct. 8, learn about their first victory.
Oct. 8, Varsity Softball will play against Grand Junction Central in their second playoff game.  They advanced after their 11-1 win Oct. 6 against Legacy.  Overall, the team's record is 16-1, with them ranking first in the state for a 5A team with a record of 10-0 in their League. 
Last season, the team was eliminated in their first round of playoffs against Ralston Valley 6-3, Oct. 25, 2019.
"I feel really good about [the first playoff game], obviously it was kind of a challenge for us that we needed to get over [last year's loss]. We needed to climb that mountain," Audrey Burt '21, Team Captain and pitcher, said. After realizing their win Oct. 6, the team ran together and celebrated.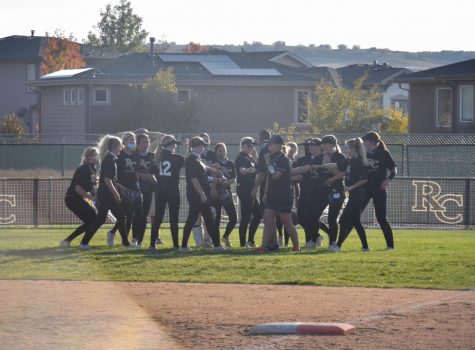 They will play in the "Elite Eight" (their second round of playoffs) against number eight-slated team Grand Junction Central Oct. 8 at 3:30 p.m. at home. You can view the CHSAA 5A Softball bracket here. Additional seating is located in outfield.