Thanksgiving Traditions
How students spend their day on November 26
Throughout Rock Canyon, you can find many different traditions people have on Thanksgiving. Many people practice the traditional, American Thanksgiving while others celebrate something different or add their own little spin on the celebration.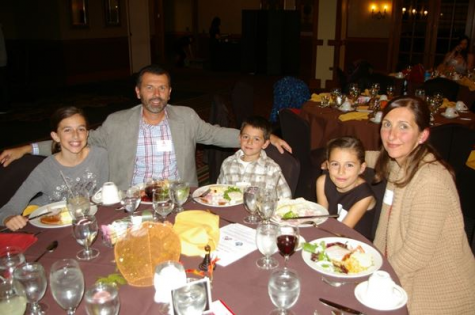 Sammy Birritteri '24 is Candian-American. Her family celebrates Canadian Thanksgiving which falls on the second Monday in October. She and her family celebrate Thanksgiving at the Canadian Colorado Association and have a big dinner with other people from Canada.
"People may think that it's a lot different from American Thanksgiving but we have the same food and traditions the only thing is that it doesn't fall on the same date," Birritteri said.
Maddi Krom '24 and her family head over to Connecticut to spend time with family on Thanksgiving in the basement of a church. "What's funny about my family is some of us don't eat traditional Thanksgiving food like turkey. I enjoy eating meatballs instead of turkey. I don't know when it started. I just enjoy meatballs more than turkey."
Like Krom, junior Elora Dodrill's family adds their own foods to their traditional Thanksgiving spread.
"Some of the dishes that my family makes is traditional thanksgiving food like Turkey and Cranberry sauce but we also have Korean food like kalbi and Kimchi." Dodrill said. Dodrills family is Korean-Caucasian, so they like to have a variety of food during Thanksgiving.
"One of my favorite things to do during Thanksgiving break is to make pies with my mom, we enjoy making homemade pecan pies" Lillia Kellaf '24 replied when asked what her favorite tradition was during Thanksgiving. 
Claire Yeater '24 explained how she believes "that the best thing about Thanksgiving is eating too much food like that's the point of having thanksgiving. You have all this amazing food and you just want to try it all and then you get stuffed."
"Since Thanksgiving isn't necessarily a religious holiday we do celebrate it. We observe the day to give thanks and be grateful to others. However, the holiday is not observed in India. My family celebrates due to western influence. Around thanksgiving/fall, Hindus celebrate Diwali or the Festival of Lights and Navratri. This is what I associate with fall as another would associate fall with thanksgiving or Halloween. Usually, we don't give much importance to the food on Thanksgiving but we do eat the basics like mashed potatoes and turkey," Saahithi Myneed '24 said.