What regulations is DIA taking to protect you and others from contracting COVID-19?
Here's an inside look at traveling in a pandemic and the multiple precautions taken by the Denver International Airport (DIA) to ensure passenger safety.
by Abigail Wood, Assistant Editor in Chief: Photo & Camera Editor
January 14, 2021
Flying during a pandemic can be a scary process with many unknowns since there have been multiple changes implemented in response to the ongoing pandemic. Here's a firsthand glance into how DIA is protecting passengers from Covid-19.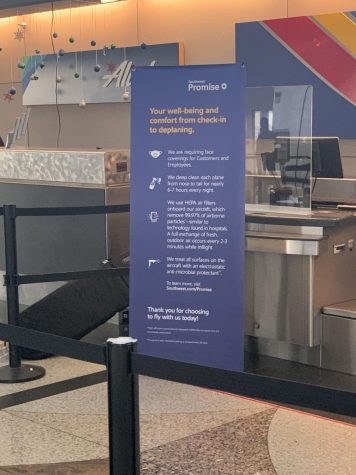 When entering DIA, passengers are immediately greeted by the masked faces of other travelers. DIA has mandatory mask regulations and signs showing how to properly wear them.
As passengers walk down to the bag check counter, they will hand their bags to the workers and head down to TSA. Southwest has made sure that the only time passengers interact with the workers is to hand them their bags. During this time, they are wearing a mask and there is a  plastic shield separating staff from passengers. 
Throughout the hallways and by the workers' desks, passengers can find small containers with hand sanitizer to use at their leisure. The airport also has stickers on the floor showing how far away to stand from the person in front of them to help maintain the 6 feet distance recommended by the Center for Disease Control (CDC).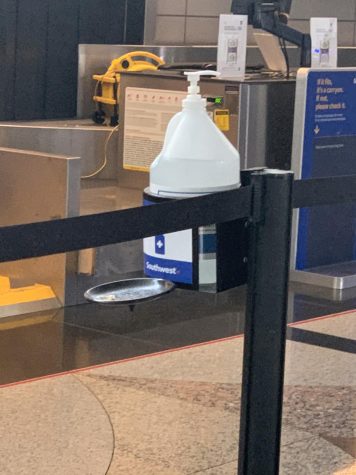 When heading down to Transportation Security Administration (TSA), passengers take the stairs or escalator, leading them to the numerous lines in the security check area. In this area, passengers will have the opportunity to grab small hand sanitizer containers to hang onto their bags and use throughout the flight. 
In the event that passengers are pulled over to have their bags checked, the TSA personnel always wear a mask and gloves when looking through bags. When going through TSA, remember to take out all electronics and food items. This will help the security process run smoothly for both passengers and workers who are trying to get others to their flights.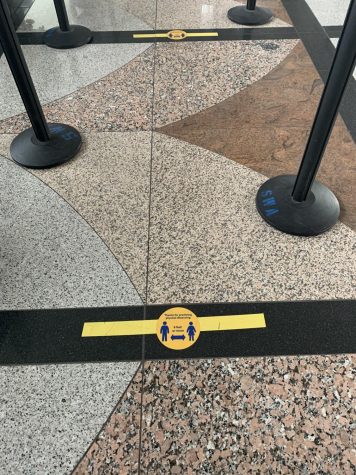 When leaving TSA, passengers must hop onto a train in order to get to their correct gate. Throughout the airport, there are signs stating to stay 6 feet apart and maintain distance, however, on the train, there was no suggested maximum number of people allowed on at a time. On the train, try to maintain a safe distance away from others, avoiding packed trains and waiting for a less crowded one.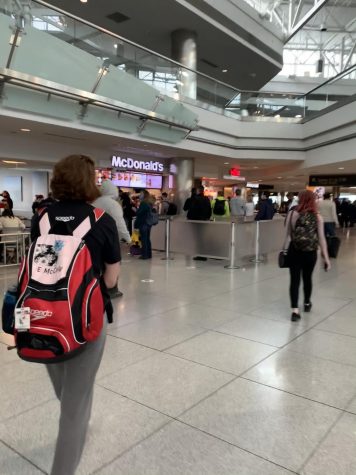 In the terminals, passengers immediately walk into a crowd of people waiting in line to purchase food or souvenirs for their flight. Many of the restaurants don't have time to sanitize their counters after every individual guest and they do not appear to maintain the CDC's six feet rule in their business operations, because people are packed closely together. I believe that there should be fewer businesses open in the airport and only necessary stores such as the ones providing snacks and first aid should be open, instead of fast-food restaurants that require many people to make, touch, and package food.
Boarding the plane is no different than it usually is, a flight attendant scans passenger tickets, allowing passengers to walk on board. When on the plane, passengers will either be assigned a specific seat, or passengers must be able to pick their seats on the flight. I flew Southwest and was able to find my own seat. The flight wasn't full, allowing other passengers and I to be seated without a passenger occupying the middle seat. 
The airport has made changes to create a safer environment, allowing for more secure travels to wherever passengers may go. Along with staying safe at the airport, passengers should remember to wear their masks, wash their hands, and use hand sanitizer to be safe. 
Going through DIA, I felt like everyone was following the rules of wearing a mask at all times unless they were eating food. Even though there were signs all around the airport telling people to maintain 6 feet of distance, it was very hard to do this because many people were rushing to their destination. If you want to stay safe and make sure you are touching a somewhat clean surface, I would make sure to bring your own wipes because many surfaces and items are not wiped down after use. In my opinion, the most important piece of information to remember before leaving for a flight, or if you are just reading this, remember that we are still in a pandemic, and traveling should only be used for necessity. Make sure that you wear your mask correctly, covering your nose and mouth, and that your mask is CDC approved. Masks can be somewhat uncomfortable, but they provide you and others with a chance to boost public safety.