Students Share Their Favorite Holiday Traditions
What you didn't know about six winter holidays.
Imagine yourself and your family (or friends) celebrating your favorite fall or winter holiday, be it Christmas, Hanukkah, New Year, Kwanzaa, Diwali, Lunar New Year, Winter Solstice, Dia de los Muertos, or another holiday. Continue reading to learn about the holiday traditions of students around the school.
Diwali:
Diwali is a five-day holiday celebrated in October or November. According to Britannica, Diwali celebrates triumph over darkness. The Hindu Festival of Lights comes with many meaningful traditions.
"One of my favorite traditions for Diwali is getting together and setting off fireworks," Tanvi Rami '22 said. "Even though in Denver it's normally very cold and we're all in traditional clothing, it doesn't take away from the enjoyment, [but] rather adds because we're all rushing to get the fireworks set off and get inside because it's cold… [this] has led to some amazing memories and very funny moments."
Hanukkah:
Hanukkah is an eight-night celebration of the reclamation of Jerusalem. The holiday celebrates the Miracle of Hanukkah, in which a menorah, only having enough oil for one night, instead burned for eight, according to History.com. The menorah is still part of modern-day Hanukkah celebrations, along with many other activities.
"My favorite tradition during Hanukkah is to play dreidel with friends and family after lighting the menorah," Josh Lederman '22 said. "We usually eat fried foods like latkes and doughnuts to remind us of the miracle of Hanukkah, and I always enjoy eating these traditional foods." 
Christmas:
Christmas is a holiday that originated from the Christian religion. Christmas traditionally celebrates the birth of Jesus, but the holiday is becoming increasingly secular. Christmas traditions often carry memories for those who celebrate. 
"Every year we make a big batch of Christmas-themed homemade sugar cookies and decorate them together with all my cousins," Avery Monroe '24 said. "Eating them is almost as good as making them!"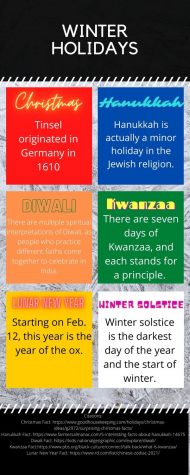 Dia de los Muertos:
Dia de los Muertos is a Mexican celebration of deceased loved ones, according to National Geographic. Dia de los Muertos translates to "Day of the Dead". This celebration is all about respecting ancestors and remembering their contributions to the world. 
Kwanzaa:
Kwanzaa is a seven-day celebration of African American heritage that is celebrated secularly across the United States. This holiday represents African American culture and helps to keep it alive in society. Each candle on the Kinara represents one of seven principles of Kwanzaa, according to History.com.
Lunar New Year and Chinese New Year:
Lunar New Year and Chinese New Year celebrate the coming of spring and the new year. celebrates the new year in the lunar calendar. Lunar New Year and Chinese New Year are related but are actually different holidays. Lunar New Year is celebrated in many Asian countries, while Chinese New Year is celebrated in China, according to Britannica.
Winter Solstice: 
Winter Solstice is the shortest day of the year, which usually occurs on December 21st or 22nd. Winter Solstice is a secular holiday that originated in ancient times and is still celebrated today, with some Christmas and Hanukkah traditions evolving from Winter Solstice, according