Flipping Chips: How Poker has Become a Class of '21 Pastime
As the COVID-19 pandemic has dismantled the plans of Rock Canyon seniors, one group of senior boys has taken up playing cards in order to spend time with one another safely and responsibly.
Unfortunately, not much has gone according to plan for the senior year of the Class of 2021. The COVID-19 pandemic has stripped this year's senior class of many of high school's most memorable moments and events. 
However, not all has been lost for the Class of 2021, as the pandemic has forced students to adapt and step outside of their comfort zones to experience new things amidst a time of drastic change. 
That is exactly what one group of senior boys did this year. Poker games, which once started as a friendly hobby among a couple of buddies, have now blossomed into a weekend tradition that formed new friendships and bonds between many of the Class of 2021 boys. 
"Most dudes don't know how to play poker until they are older," Owen Mullison '21 said, "but I started playing about two years ago."
Mullison took up playing poker as a way to spend time with his dad and older brothers. But when COVID-19 struck, he wanted to teach his friends how to play in hopes of finding a way to still spend time together when most restaurants and popular teenage hangout locations were being shut down. 
"When my friends and I started playing consistently, our group was super small, but over time it grew into a much larger and more connected friend group than I ever would have expected," Mullison said. 
The group of players now includes more than twenty senior boys, who rotate between houses to play small games on the weekends. Although COVID-19 keeps all of the boys from gathering to play one large game, they get to spend time with one another in smaller groups to safely follow state recommendations in handling the pandemic. 
"I knew it was becoming a pastime for us when we played our first fifty dollar buy-in game. The pot was around $400 dollars, and it was just cool to know everyone was getting invested in playing and was taking it seriously," Mullison said
Cam Beal '21 was one of the first to join Mullison's poker games, and he has now been playing consistently for just shy of one year. 
"The guys that I play with have been my friends for years, and playing poker with them gives us the chance to hang out in a new atmosphere," Beal said. "We all enjoy spending time with each other and just playing the game."
The small groups of gamblers now meet on most weekends, playing games of four to five people, typically for a total pot just north of one-hundred dollars. Although it is always a good time to see one another, the boys definitely love the added feeling and reward of winning a game and taking home some cold hard cash.
"My favorite memory of playing poker over the past few months was when I accidentally showed my cards to the table mid-hand and I had a full house," Beal said. "But Ty [Hall '21] went all-in anyway because he misread my hand, so I called and won a ton of chips."
Hall, another consistent player in the poker group, suggests that his success in playing has come from his ability to crunch numbers quickly.
"I like to play poker because I am a very analytical guy, so playing the odds suits me really well and I think that I have gotten pretty good at it," Hall said.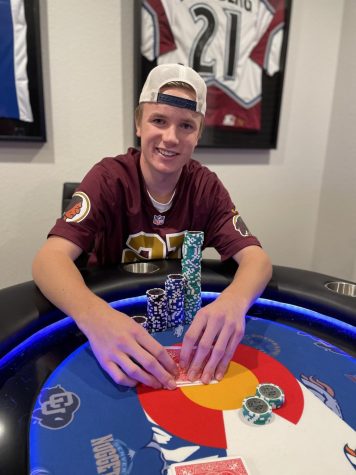 Hall is the only member of this poker group who can say that he has accomplished the game's rarest feat: the Royal Flush. A player's likelihood of hitting a Royal Flush on any given hand is 0.000154%, meaning that statistically, a player should be expected to play roughly 650,000 hands of poker before getting their first Royal Flush. 
"It is just such a once-in-a-lifetime thing and for it to happen to me when I hadn't been playing for a long time was just crazy," Hall said. "Lots of guys can play poker their whole lives and never get one."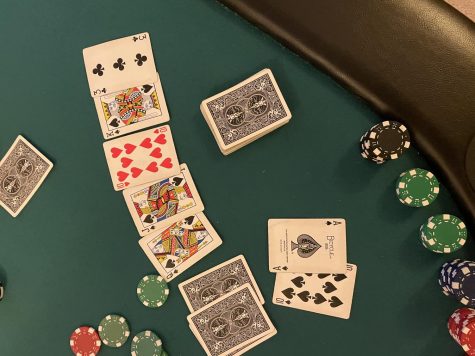 Overall, this group of young men adapted to the strict regulations brought forth by the COVID-19 pandemic and found a new hobby in the process. These seniors exemplify how to spend time with one another responsibly in the midst of unprecedented change, while still making new friends and memories in the process. Kudos, boys, to a job well done.