Skiing the Slopes
Mid-February and ski season have rolled around the corner and gone into full blast as many students find themselves riding down the slopes during class or heading up to the mountains on the weekend.
theRock did an Instagram poll asking students what their favorite mountain out of the top eight main ski resorts in the Colorado area is. As the results slid in, the top two winners were Breckenridge Mountain and Copper Mountain. The other six were voted out by students; the resorts included in the poll were Keystone, Vail, Loveland, Winter Park, Telluride, and Aspen. 
Coming in first place was Breckenridge Mountain with 64% of student votes. The resort is located in Breckenridge, CO, and is open from Nov. 8 to April 18 for the 2020/21 season. Breckenridge has 187 runs. Skiers can zoom down at their pleasure, ranging from greens to triple blacks. 
"Breck [is my favorite mountain to ski] because of the memories attached to it. I started skiing because my dad made my sister and I learn to ski when we were little, and we loved it so we kept going back every season," Annabelle Martin '22 said. "Whenever I'm on the mountain, I always bring hand warmers because without them I can't take my gloves off to take a picture of the beautiful scenery and still keep my hands warm."
"I like that Breck has so many peaks – it gives you a multitude of options to ski. My favorite run is a blue run called Claimjumper on Peak 7," Morgan Wetzel '21 said.
Copper Mountain ranked number two for students' favorite resort with over 36% of students voting for the mountain. Copper is open from Nov. 30 to April 25 for the 2020/21 season. There are two sides of the mountain skiers can explore, with slope difficulty ranging from green to triple black. All the way to the bowl on the backside of the mountains that make up Copper, there are over 140 runs.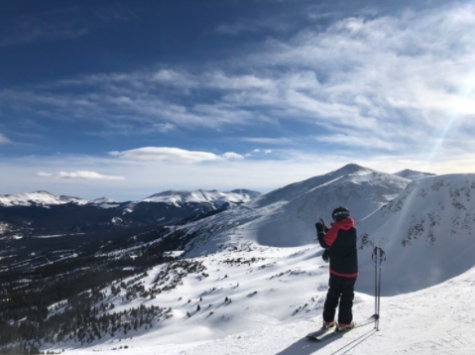 My personal favorite is Copper Mountain. The layout is awesome and some parts never get old, and it's expansive and fun. I started skiing when I was 6, and started snowboarding when I was 15. Skiing was just something we had a thing we had done for as long as I could remember, but after I reached double diamond runs I decided to learn the board, and now I can switch between the two with varied ability," Colin Venable '22 said.
Through the voting process, six other mountains were not as popular; however, it didn't stop students from voicing their opinions on their other favorite mountains. 
"I would have to say Keystone is my favorite mountain because I've been skiing there almost every year since I was five. I know most of the runs there, and I just love going there every year.  I started skiing because my dad got me into it and I enjoyed it, so I kept going. I love the mountains and being able to go up every year when it snows. One of my favorite runs in Keystone is Diamondback. It is on the back mountain. Interestingly, some essential things I bring when I go up to ski are chapstick and lotion, and I will sometimes stuff tissues in my pocket," Nishi Reer '22 said.
Keystone was voted out in the first round with 36% of students voting for it but Breckenridge getting over 64% of votes from students.
"My favorite mountain to ski is Keystone because it's the first place I ever went to. I learned how to ski there and it's just stuck with me as a great place to go to and to challenge myself on runs. I haven't been able to go lately so I don't remember the names of the runs, but even if I did there would be too many to choose just one; all of them are fun. If there's one thing I would always want with me, it would be hand warmers because it gets chilly up there," Ryan Gerlitz '22 said.
For some, skiing is more than hitting the slopes. It has been the start of friendships and the continuation of family tradition.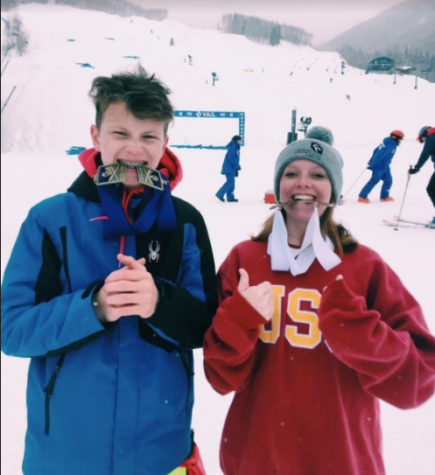 "If I had to pick which was my favorite mountain I would choose Winter Park or Steamboat because Winter Park is the main mountain I ski because my family is there. I like both mountains because they are super big and have advanced terrain. I started skiing when I was two and a half years old because my family is a huge ski family and my parents grew up skiing. I kept skiing because it was an escape from reality and I compete which is fun for me. I have met some of my best friends skiing. The one essential thing I bring when I ski is my Vaseline because nobody wants chapped lips when they're skiing especially when it is super cold," Brooke Hein '24 said. Photo Courtesy: Brooke Hein '24
Each mountain is a different size, and while some students prefer to stick to smaller mountains with slopes they can become familiar with, other students like a vast amount of slopes at different levels of difficulty.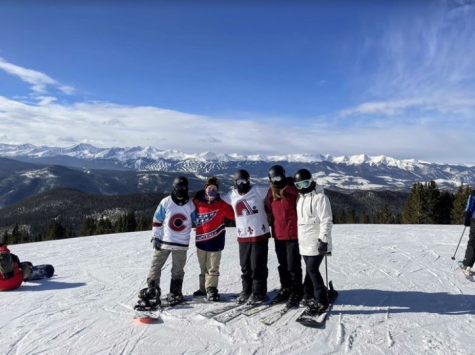 "My favorite mountain to ski is Vail. It's the mountain where I first learned to ski and where I have skied the most. I also like it for how much it has to offer. It's a pretty big mountain and you really can't get bored because there are so many runs you can do. I started to ski because the rest of my family skied. I grew up skiing but I also found that it's something I enjoy doing now. Some of my favorite skiing trails involve more powdery snow and lots of trees. I tend to stick mostly to blues and blacks but I'm honestly always up for anything! Something essential I always bring on the mountain is food and little snacks that I pocket and eat throughout the ski day. Skiing is something I think I'll continue to do in college and after as I don't think I could ever see myself not enjoying it," Caroline Pita '21 said.