The SAT/PSAT Schedule and Common Questions
Here's what you need to know for the upcoming SAT and PSATs.
Testing week is approaching, and students and teachers are preparing for the PSAT and SAT that helps students test their knowledge on what they have learned throughout the school years. Below is some information on how you can prepare and be your best test taker.
Look below to see when you will take the PSAT or SAT if you are in 9th, 10th, or 11th grade.
SAT (for juniors): 4/13 
PSAT 9: 4/14 
PSAT 10: 4/15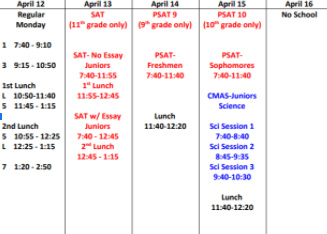 All 9th, 10th, and 11th graders are required to take the PSAT or SAT. However, if you would like to opt out, there is a way to do so. You can use the excusal form with your parent's Infinite Campus portal. 
However, Testing Coordinator Melissa Rosati does not recommend opting out of either of the standardized tests.
"These College Board exams are national exams, which means they demonstrate how well you perform in comparison to students across the United States," Rosati said. "The College Board also connects you to scholarships and grants, and SAT scores are accepted for admissions purposes for all colleges and universities."
If you are absent on the date of your test or you are a virtual learner, you should contact your counselor and administrator. E-learners will still be able to take the test in an assigned room.
Take additional practice tests (especially before the SAT– that's why you take the PSAT).

 Use a practice course, such as

Khan Academy

's free SAT practice course.

 Learn more vocabulary words with an app such as

Magoosh Vocabulary Builder

(available on iPhone and Android). 

 Review math skills from previous years. 

Take some

preparation classes

that help you study and learn how to take the test. 

"Take an SAT Prep class at a private business such as Elite Academics," Rosati said.

Read the

Get to Know the SAT guide

.

Remember to get a good night's sleep before the day of the test and eat a good breakfast.

Make sure you drink plenty of water throughout the day.