Packed Parking Problems
Parking spaces in the student parking lot are limited, leaving many students in a state of frustration.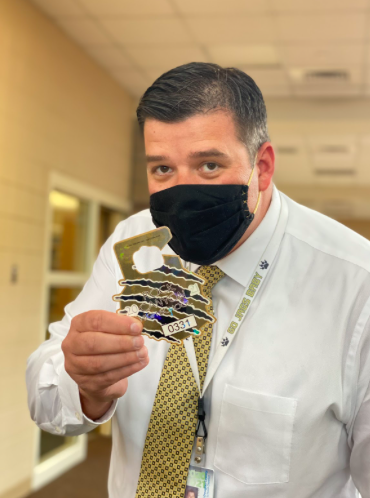 Rock Canyon drivers brawl over parking spots before parking passes are officially handed out. The parking lot is packed, and many students are frustrated over the lack of space. Seniors and a small handful of juniors received their parking passes late March. Ticketing started the first week of April. Ticketing will be enforced on cars without a parking pass or any illegally parked car. The first ticket will be a warning, the next is a minor fee, and the following tickets will increase in severity of punishment. 
"We want to make sure we get passes to [students] first before we start wasting time writing tickets for people who may have [ordered] a pass but have not put it up yet," security guard Andy Marton said. 
Seniors have spent almost four years waiting for a granted parking pass in the crowded lot. This year, more drivers are trying to cram in the lot than ever before, leaving many seniors irked. 
"Seniors are upset because underclassmen have been fortunate enough already to park in the lot all year long. They should have to go through the same struggle we all did as sophomores and juniors," Michael Minnick '21 said.
The seniors are not the only ones experiencing the frustration of parking in the lot. Some juniors have been parking in the neighborhood behind the school, and each has as good of a chance as any other junior at getting a parking pass.
"Parking is the least of our concerns because we have waited too long with Covid and online school, so I don't think it matters. If you're worried about your parking spot, just wake up earlier and get there on time," Mac Garrison '22 said.
Admin is aware of the packed nature of the student parking lot. 
"We hear you, Jags. I really wish that whoever designed Rock Canyon High School would have designed it with enough parking space to accommodate all of our students," Principal Andy Abner said.