Rock Canyon's Best Dressed List: Wish Week 2021
A roundup of wish week's greatest garments
     During Rock Canyon's annual Wish Week fundraiser, the student council is known to promote fun themes for each day in which students dress to show their encouragement and participation. Most students try to be as involved as they can and dress up in the theme to support our Wish Kid. Generally, the events and fundraisers of Wish Week are based on the Wish Kids' favorite things, and the spiritual themes are no different. We had many creative themes this year, inspired or chosen by Dean, including Tacky Tourist, Jag Spirit, Red-Out, Camo, Nerd vs. Athletes, and 2021 Wish Week spirit. Here's who made the best-dressed list for each themed day!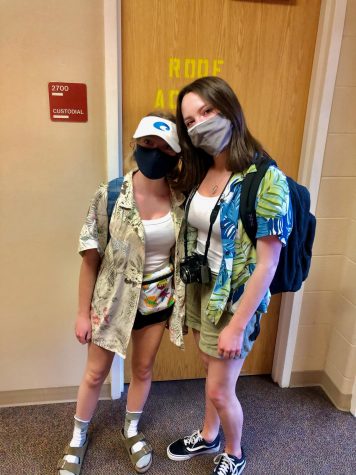 Thursday, April 1 (Tacky Tourist): Avery Pollock and Lily Mulstay
On Thursday, the halls were filled with tons of tacky tourist attire like bucket hats, Hawaiian shirts, leis, sunglasses, and more. During this day, many students had notable and creative outfits to show their support. However, my choice for best-dressed today was Lily Mulstay and Avery Pollock. This freshman duo coordinated with each other to wear similar outfits and even had hilarious props like Avery's camera and Lily's fun dinosaur fanny pack.
"I think the themed dress days are a really fun way to participate in Wish Week and just show support for Dean to make it a great experience," Avery Pollock '24 said. "I decided to participate because being involved in things is just a huge part of Wish Week and if you get the chance to wear fun crazy clothes why wouldn't you?" All students can be crazy with what they wear on spirit days because it's a fun opportunity to be creative and support school spirit. "My favorite part of these weeks is having fun and getting to wear things I normally wouldn't wear to school," Lily Mulstay, '24 said.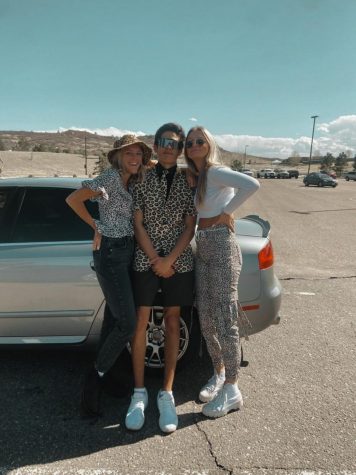 Friday, April 2 (Jag Spirit): Kaitlin Hicks, Mac Garrison, Brooke Lange
On Friday, April 2, the theme was Jag spirit. Students from all grade levels came to school decked out in their favorite Rock Canyon merchandise, the celebrated Jaguar print, and our signature black and gold colors. Some wore clothes showing their involvement in clubs and sports, while others got creative with colors and patterns. During Friday's Jag spirit theme, students showed a strong sense of involvement and community at Rock Canyon. My choices today for best dressed were juniors Kaitlin Hicks, Brooke Lange, and Mac Garrison. They were all wearing RC colors, fun accessories, and Jaguar print. I loved Lange's fun Jag pants, Hick's fuzzy Jag bucket hat, and Garrison's Jag print jacket/tie combo.
" I think themed dress days are very important because they get everyone in the spirit of Wish Week." Brooke Lange, '22 said. "My favorite part about them is that they are chosen by our wish kid.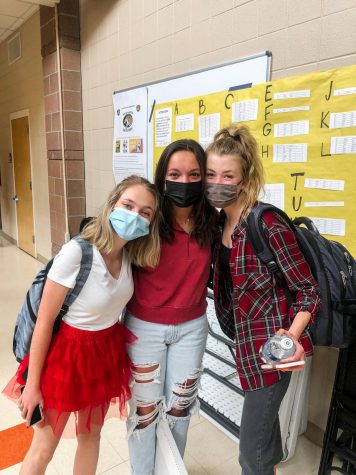 Monday, April 5 (Red-Out Day): Kelsey Ekstrom, Abigail Williams, Lily Mulstay
The spirit theme on Monday was Red-Out Day, chosen by Dean himself. To show support for our 2021 Wish Kid, students came to school wearing all shades of red, Dean's favorite color. My choices today were a group of freshman girls, including Abigail Williams '24, Kelsey Ekstrom '24, and Lily Mulstay '24. Williams and Ekstrom had fun pops of red with their tops/shoes, and Lily was wearing a red tutu and red ribbons in her hair.
" I think the themed days are important because they are showing support towards Dean, and showing him that he's more than just a fundraiser to us, that we support him in every aspect of his life." Abigail Williams, '24 said.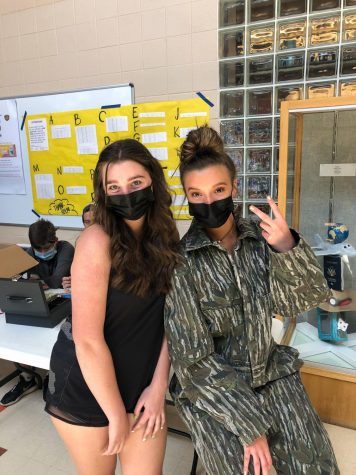 Tuesday, April 6 (Camo Day): Madeline Ramsey
 On Tuesday, April 6, the spirit theme was Camo Day. The halls were filled with combat-ready camouflage, army green, and military-inspired outfits. The theme was established from Dean's love of hiking and the outdoors.
Many students wore creative camo outfits and colors to show their involvement in Wish Week. My choice today for best dressed was Madeline Ramsey, '21, who wore statement camouflage coveralls and Air Force 1's. "I love walking through the hallways and seeing everyone's outfits," Ramsey '24 said, " I say go big or go home so I definitely wanted to go all out, and what better cause to do that than wish week!"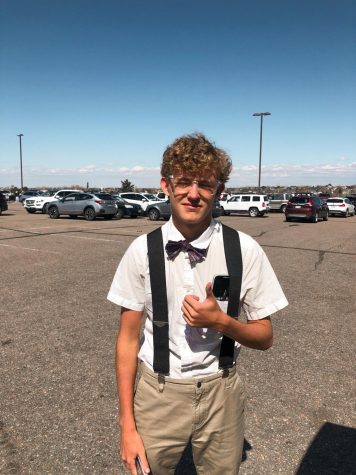 Wednesday, April 7 (Nerds vs. Athletes): Tripp Thompson
For the last spirit day, 'Nerd vs. Athletes," was the theme, inspired by Dean's favorite show, Magic School Bus. Rock Canyon students came to school dressed as either a nerd or an athlete and showcased creative accessories to get into school spirit. "Athletes" chose to wear RC sports gear, sports jerseys, and favorite team gear. "Nerds" wore garments representing their favorite colleges, glasses (even if they didn't need them), and suspenders. My choice today for best dressed was junior, Tripp Thompson '22. He went all out for this spirit day, wearing khaki's, a button-down, suspenders, a bowtie, and glasses. "I decided to participate because I love Dean, and Wish Week is a fun time that we get to show our school spirit." Tripp Thompson '22 said.