Sweet Generosity
How freshman Marabelle Cecil combined hobbies with helping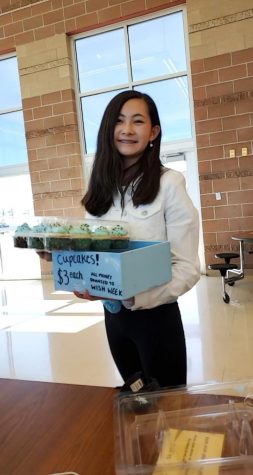 Many students go out of their way to support and celebrate Wish Week, and freshman Marabelle Cecil is no exception. 
     When she heard about Dean's family, she decided she wanted to contribute as much as she could, and realized she could combine her generous goals with her favorite hobby: baking! 
     The weekend before Wish Week began, Marabelle made 60 vanilla bean cupcakes, all decorated with blue buttercream frosting and sprinkles. She made both the cupcakes and the frosting from scratch, and sold the cupcakes for $3 each, while also accepting donations. In the end, she raised over $200 that she donated to her seminar class's Miracle Minute collection. 
     "I think it's super cool how you can use your passions, such as baking, to help other people," Cecil said. "I'm so happy to have raised a lot for Make-A-Wish and am super grateful for all the people who donated. I couldn't have done it without them."