ROCKstyle: Spring/Summer '21 Trend Report
The 411 for This Season's Fashion Trends
     You have probably been embracing a soft, baggy comfort zone of sweatpants for the entirety of this year. However, there comes a time when the world is sick of drab, shapeless loungewear, and ready for the return of fashionable, trendy outfits. If you're like me, that time can not come soon enough.
     Luckily, the spring/summer fashion season is in full swing, and it looks as if I'm not the only one who is sick of their sweats. For this spring, tons of fresh trends and statement styles are taking the world by storm. So much more attention is being given to shopping, trends, individual style, and the entire fashion landscape. The industry had a year to reinvent itself, so this spring will be fashion's big comeback, and one step closer to normal life. Here is your spring/summer trend recap and seasonal shopping guide.   
     1. Bolder florals
     To quote the icon, Miranda Priestly, "Florals for spring? Groundbreaking." And yes, however cliche that idea may sound, something about longer days and rising temperatures always makes floral prints highly appealing. Season after season, designers prove that they understand this appeal, and this season we are seeing a multitude of creative takes on the notorious spring floral. Specifically, I saw three main takes on floral patterns: ethereal flowers, pressed flowers, and exuberant blooms.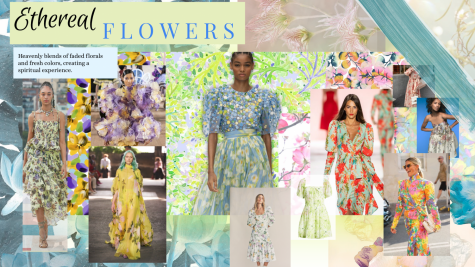 Ethereal flower prints provide a dreamy and tranquil spirit, with faded/blended colors and a "watercolor" look.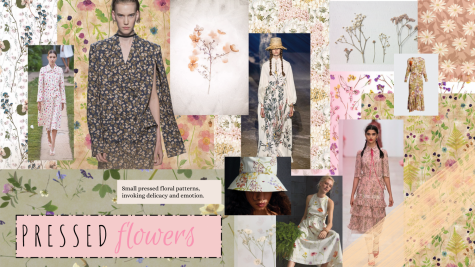 Pressed flower prints contain delicate dried flower arrangements placed on neutral backgrounds to create an almost retro yet intricate tone.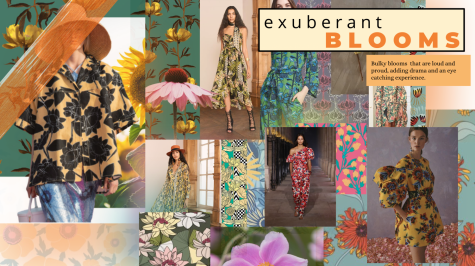 Exuberant blooms are exceptionally striking prints featuring bigger and bolder blooms of various spring shades, creating an energetic and confident feeling, perfect for our big return to fashion.
2. Cut-outs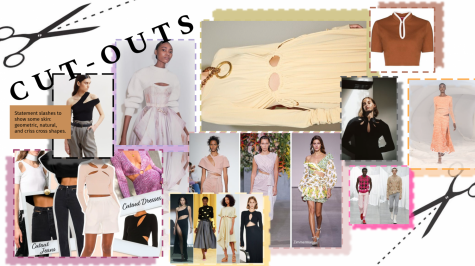 Another massive trend I observed during Fashion Week was cut-outs. I think many factors are attributed to this cut-out trend, which is now taking over runways, street style, and social media. With the COVID-19 virus and continuous lockdown restrictions, we have been hibernating in a couch-surfing, Zoom-meeting dress code.  It is understandable that people are ready to show some skin again.
     Designers once again understand this shift, packing their collections with styles that show some flesh in unique, statement ways. At first, I was on the fence about this trend, but I've started to see that it can be styled in countless ways, suiting a variety of individual styles. Whether it be ultra-cropped cut-out turtlenecks, shoulder slashes, double straps, tie-up cut-outs, or laser-cut garments, these crazy cuts are being embraced around the world this spring by fashion figures and influencers alike.
3. Knit/crochet/handcrafted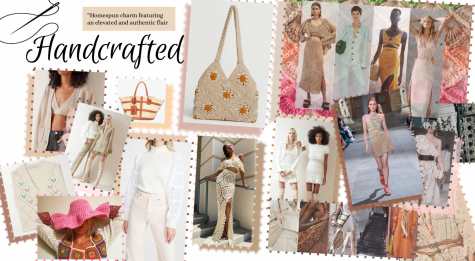 Next, it was very obvious to me that the handcrafted trend has been HUGE for this spring-summer, and it is continuing to grow, being easily incorporated with other spring trends, and giving a sense of relatable nostalgia to consumers.
     "Even as the weather gets a bit warmer, we'll still be loving this year's homespun charm. Think nubby knits, easy dresses, and novelty cardigans paired with handcrafted details like eyelet and embroidered designs, intricate woven techniques, and peter pan collars that elevate any look with an authentic flair," Caroline Maguire, Fashion Director at Shopbop, said.
  I do agree, this handcrafted, minimal knit, and crochet trend is classic and familiar, yet provides a fresh spring ambiance. 
4. '80s Power Silhouette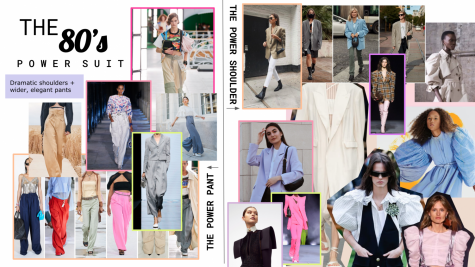 "Power dressing" was the silhouette of the '80s. During this time, more and more women emerged to enter the male-dominated workforce, and a new style of feminine silhouette was enlisted. The surge of powerful women led them to embrace elements of the typical men's business suit. This triangle silhouette, notorious in the '80s, represented a woman's status.
     Oversized sleeves, wide shoulders, a cinched waist, and dramatic wide-leg trousers were key elements of power dressing. During spring Fashion Week 2021, countless designers and modern fashion houses have reinvented this look, and it has been an impactful reemergence of confident, bold silhouettes. 
5. Nods to the '90s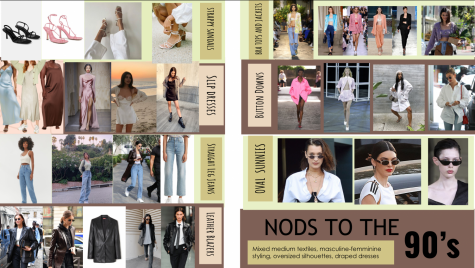 While the 1980s were all about volume — padded shoulders, puffed jackets, big hair, wide-leg trousers, and designer obsession, style in the early 1990s presented an influx of minimalist ease and effortlessly low maintenance style. 90's fashion was hard to pin down. Some trends during this era clashed and screamed for our attention, while others are now stylish staples in our wardrobes; slip dresses, straight-leg jeans, cropped bra tops, strappy sandals, button-downs, small oval sunglasses, and more.
     The '90s trend has been growing and circulating for the past year, embraced by fashion companies and celebrities alike. But specifically this spring it was embraced on a much larger scale and has exploded more than ever before. This spring designers put emphasis on these nostalgic garments, reviving them for 2021 style. These '90s inspired pieces are proving to be the most fun and offbeat in a woman's wardrobe. 
6. Spring/Summer 2021 color trends: Sorbet Tones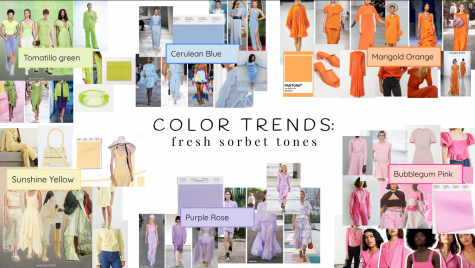 After a year of fashion being at the bare minimum- bland, practical, and comfortable; it is no surprise that this spring, inspiring vibrant colors are providing some long-awaited excitement.
     From light and airy candy-colored shades to bright sorbet tones, the colors for the spring fashion season are eye-catching and exhilarating. These specific spring shades are everywhere this season, proving that designers, fashion houses, consumers, social media, and the world are ready to make a statement again. See above for my list of this spring's hottest captivating colors. 
7. Spring/Summer 2021 Accessories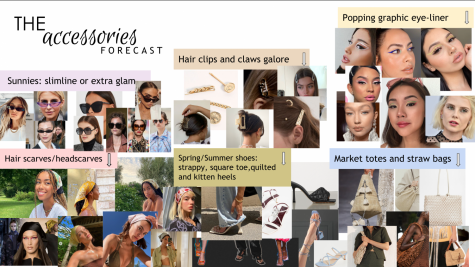 And finally, here are the biggest accessory trends that I have seen from runways to celebrities and social media to street style:
Hair and headscarves (bottom left) were massive during spring Fashion Week, and they have continued to grow through social media. Headscarves were very popular in both the '80s and '90s, so considering both eras have returned to fashion, it only makes sense that these glamorous accessories would too.
 The sunglasses trends this spring/summer (top left) came in two extremes; either big, extra glamorous shades like cat eyes or very narrow, small sunglasses like slimlines. Again, this makes sense because big shades are typically from the '80s while minimal oval sunglasses are from the '90s.
For shoes, the biggest trend was strappy sandals, complemented by kitten heels or square toes. This shoe was also popular in many other eras, including the '90s.
For bags, the absolute biggest trend was the market bag/tote bag. (bottom right) These often have a handcrafted appeal, made with basket, knit, crochet, macrame, or netting and are practical yet stylish in unison.
For beauty, graphic eyeliner was a fun and energetic trend, a look grabbing the attention of influencers, fashion houses, and celebrities. 
Well, who doesn't love the spring/summer season; warmer weather, flowers blooming, sunny days, refreshing drinks by the pool, strolls around the park, or tasty ice cream on a hot day. We all hope this spring and summer will be full of adventure, excitement, and unforgettable experiences. But what's not on the dress code? Sweatpants.
Happy shopping!
Leave a Comment