Grand Wins in the Grand Concours
The morning of March 12, over 29,000 students nationwide sat before their computer and logged onto what's often regarded as the hardest French student competition in the USA.
Thousands of students who study French in school have the opportunity to compete in the Grand Concours/National French Contest, an optional nationwide contest sponsored by the American Association of Teachers of French (AATF). 
"The Grand Concours is an amazing way to test your skills in French, I absolutely recommend taking this test at least once during your high school French education," Lauren Vick '24 said. "It assesses so many crucial elements of being proficient!"
The competition tests students' knowledge of the language and culture through a 60 question timed test. This year, it took place virtually on March 12, and included a listening section and a reading section, both accompanied with multiple-choice questions. Students received their results April 19.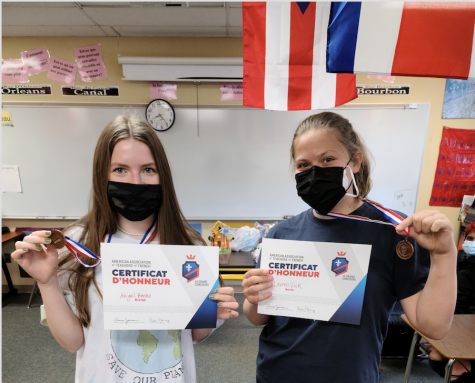 There are five awards that students can win a medal for. The Platinum award is for the highest scorers in a level/division. Gold awards are for students who rank in the 95th percentile, Silver awards are for students who score in the 85th-90th percentiles, Bronze awards are awarded to students who score in the 75th-80th percentiles, and Honorable Mentions go to students who rank in 50th-70th percentiles.
"I think it's a great way for kids to compete against other schools to see where they are, but also to see their own learning and have a chance to work more one-on-one with their teacher, because we have those small group sessions where they can have a really intense grammar review for kids that are really serious about the language," French teacher Mrs. Alexis Savas said. 
This year, Rock Canyon had 19 total students compete, with seven students entering in French Level 3, six in Level 4, and six for Level AP and 5 combined. Out of the 29,513 competitors in the US, our school had several National medalists. In French Level 3, Abigail Benko '23 and Lauren Vick '24 won Bronze Medals, and Joshua Lederman '22, Clara Geuzaine '24, and Claire Bauer '24 received honorable mentions.
"This was my first time taking it but I ranked 5th regionally, overall it was a pleasant experience but still challenging experience," Lauren Vick '24 said. "Being a French student is an absolute blast. I've always enjoyed the subject and have been helped by some amazing teachers, like Mrs. Savas here at Rock Canyon, and Mrs. Sanderson at Rocky Heights Middle School."
Annie Benson '22 and Amira Badruddin '22 placed 1st and 2nd in our region for French 4. In the AP French Level, Ayanna Cudennec '23 won a Silver Medal and was 1st in our region, Khadija Sow '22 and Gabrielle Bauer '21 tied for 2nd in the region and both received Bronze Medals.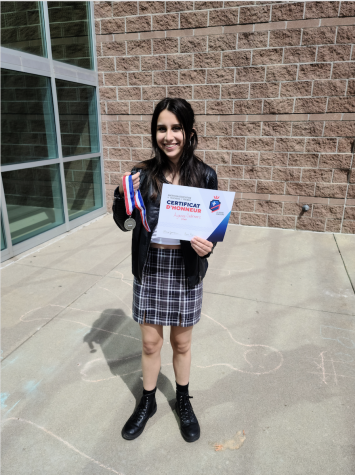 "I've worked really hard in class in preparation for the AP exams, and Mrs. Savas's lessons have been engraved in my mind, so she's been my secret to success and I am so thankful for her," Cudennec said. "I'm half French and fluent so it's a nice way to stay close to the culture while also getting to watch other kids be just as involved."