Out with a Bang: Student's Best Spring/Summer Fashion to Finish the Year
Students make a good impression on the school's hallway style scene.
     During these last few weeks of school, you've endured countless final exams, projects, and tests for every class. You've been studying like crazy, fixing grades, and working all day and night to finish the year strong. After a monotonous year of uncertainty, injurious habits, and draining schedules, it's safe to say that the approaching relaxation of summer can't come soon enough. 
     Luckily, we are in the final stretch of this taxing year. The seniors' last day came and went, and the rest of us only have a short week left. The finals rush is dying down and the hallway fashion scene is proving that students are ready for summer. Here are some highlights of students' best final fashion impressions before they leave for the summer.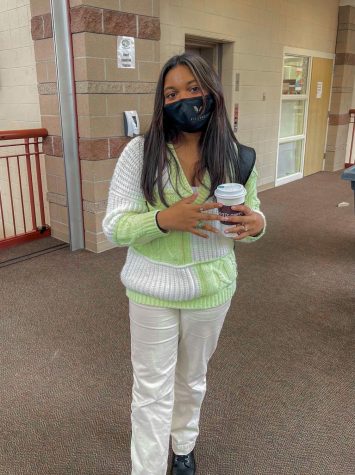 Shwithi Velpuri '24, wearing the trendy spring color "tomatillo green," 90s style boots, and fun jewelry. 
(Sweater: Shein, Pants: Tilly's, Shoes: Steve Madden.) 
" I really love the '90s style items. I love wearing puffers, bell-bottom jeans, slip dresses, and other pieces like that. I'm also really into florals right now, because I love wearing pretty floral dresses or tops and accessorizing them with cute rings, totes, hair accessories, like satin scarves and claw clips, and especially sunglasses," Velpuri said.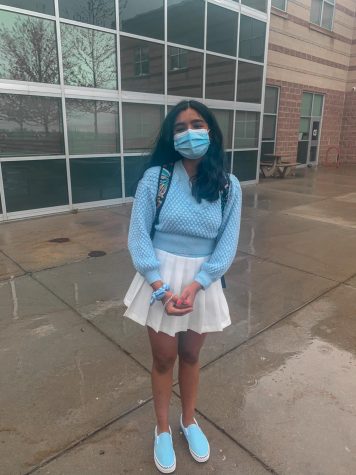 Aditi Avinash '24 wears spring cerulean blue and a handcrafted style knit sweater.
(Sweater: Forever 21, Skirt: Forever 21, Shoes: limited edition Vans)  
"I love all of the spring trends this season, but my favorite would have to be all of the sorbet-toned clothing," Avinash said. "I just love the colors because they remind me of spring. They look really vibrant and I think adding color to an outfit makes it look more put together and fun!"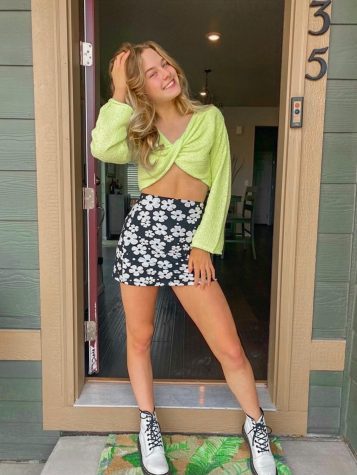 Ava Ziehwein '23 heads off to school in her trendy spring outfit, a "tomatillo green" sweater, bold floral skirt, and '90s inspired boots. 
(Sweater Top: Urban Outfitters, Skirt: Urban Outfitters, Boots: Doc Martens) 
"My favorite spring trends right now are the bright pastel colors, and handcrafted style knits like tops. I also love the look of long high waisted mom jeans!" Ziehwein said.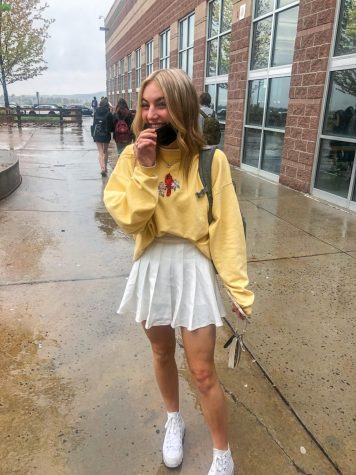 Ripley Coope '22 wears a '90s inspired oversized yellow crew neck with a pleated skirt and platform converse sneakers. 
(Crewneck: Thrifted, Skirt: Shein, Sneakers: Converse.)
"I love the cutout piece trend this season," Coope said, "Spring fashion, in general, is just really fun to style because it's a lot more unique than other seasonal styles!"
Ella Miller '23 wears a cerulean blue floral skirt, Air Jordans, and a boxy cropped tee. 
(Tshirt: Pacsun, Skirt: Princess Polly, Shoes: Nike) 
"My favorite spring trend at the moment has to be small sunglasses and headscarves," Miller said. " I like spring fashion because it allows me to start to compile my summer outfits while having the freedom to express my style more. When spring hits, there are more floral patterns and bright colors, so I love to wear cute dresses and skirts!"
Students at Rock Canyon are showing their spring spirit by showing up to school in bright, refreshing fashion, and getting ready for the excitement of summer by making a statement. It has been a hectic year, but if one good thing has come out of the crisis, it's student's increased willingness to express themselves and curate their personal styles. Throughout the changing schedules, academic battles, and whirlwind of ambiguity, students have shown up to school with determination, resilience, and, of course, style.
Leave a Comment