A Fierce Debate: Facts and Perspectives on Wearing Masks in School
Imagine every person in the Denver Metro Area gathered in one place. Millions of people, millions of views. Each of these people has a unique perspective. Think about one issue, masks in schools. Think about all the perspectives that must exist. 
One decision exemplified one of these perspectives. On Sept. 7, Douglas County separated from Tri-County Health, according to the Denver Post. Adams County has also left Tri-County Health.
This has led to a ripple of effects, including Douglas County School District (DCSD) going against the newly formed Douglas County Health Department and mandating masks in schools on Sept. 1. According to 9News, DCSD is suing the Douglas County Health Department on behalf of students with a higher COVID-19 risk.
A group of parents of higher risk students is suing Douglas County Health Department alongside DCSD. According to the Denver Post, DCSD and the parents are claiming that Douglas County Health Department orders violate the Americans with Disabilities Act. 
Some students believe that the new Douglas County Health Department is not making decisions based on science. 
"I think it's a bad idea because there aren't any doctors in it and the new one is just 'we don't want to wear masks,'" Sophia Bobier '24 said.
However, others believe that the Douglas County Health Department is doing the right thing. 
"I think people should be able to make their own decisions and decisions shouldn't be made for them," Carson Szilagyi '24 said.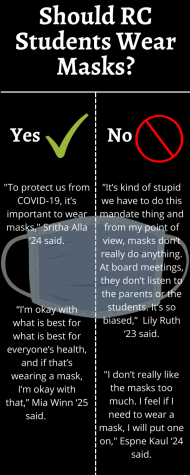 According to the Highlands Ranch Herald, a judge extended the ability for DCSD schools to require masks for another 14 days Nov. 8. 
CDC guidance states that people who are fully vaccinated should still wear masks indoors if they live in an area with higher transmission or are more at-risk from COVID-19. In Douglas County, the CDC states that community transmission is high and suggests wearing a mask indoors. The two week positivity rate is 10.8%, according to the Colorado Department of Public Health and Environment.
In the past two weeks, there have been three outbreaks in Douglas County Schools, with a total of 54 cases, the majority at Stone Mountain Elementary. The weeks of 10/29 and 10/22 had no COVID outbreaks. 
There have been no outbreaks at Rock Canyon. 
According to DCSD data, the week of Oct. 15, a week after Douglas County Health declared students could have mask exemptions, had five outbreaks. There were no outbreaks the week of Oct. 29 after masks were reinstated on Oct. 26, however, the week of Nov. 5 saw two new outbreaks.