Running Red Tutus and Singing Sweet Songs
Students celebrate friendships and fun for Valentine's Day with singing telegrams.
by Abigail Wood, Assistant Editor in Chief: Photo & Camera Editor
February 14, 2022
RC choir's Valentine singers sold singing telegrams the week before Valentine's Day during lunch. The students from the choir set up a table outside of the cafeteria, and have students pay to send a singing message to their boyfriend/girlfriend for only five dollars or even play a prank on one of your friends who you want to embarrass.
"I bought a singer as a joke to enlighten my friend during Valentine's Day. I picked one of his favorite songs from the band One Direction because I know I'll get a laugh out of it and he will get a laugh out of it," Colette Vachris '24 said.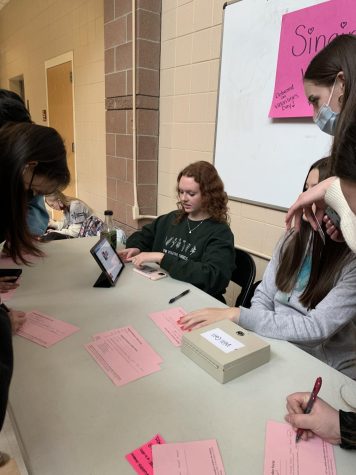 Choir uses the money raised from sales to pay for the extra things in a choir such as travel trips, and any extra music material needed. 
"Choir is singing valentines because they are a fun, light-hearted way to celebrate Valentine's Day. It also raises money for the choir to allow for us to keep singing on," Brooke Hein '24 said. 
It is also an RC choir tradition that wasn't able to take place last year due to covid. 
"I have never participated in singing valentines before which is even more exciting. The process leading up to them is super fun because we get to take our own approach to the songs that we do," Hein said.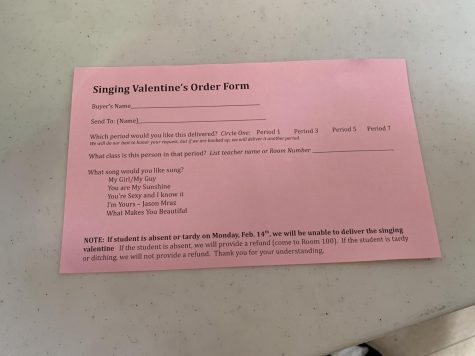 A different variety of songs were available on the singing telegrams and allowed for the choir to take a new approach to the songs when singing them in classrooms. 
"Some song choices are: You are my sunshine, My girl/my boy, You're sexy and I know it, I'm yours, What makes you beautiful, Can't help falling in love," Hein said. 
Students buy them for their girlfriend/boyfriend, some also buy them for their friends so that they can have a good laugh that day. 
"It's not about the money, it's about sending a message. For just $5 I can harass my friends," Cooper Stanley '22 said. 
Valentine's day also can be a day of reckoning for students that want to confess their love to someone on the day of love or to have a cute party with heart themes for classrooms and have a party with homemade candy boxes like students had when they were in elementary school.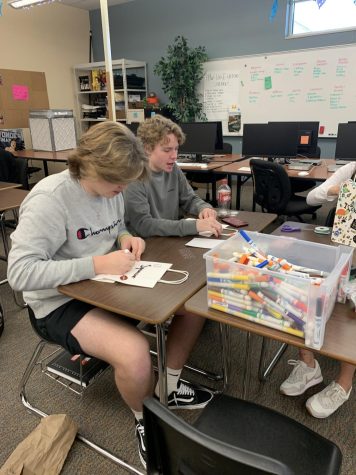 "It helps me remind myself of the holiday parties that we used to have, and it helps me reminisce on my childhood and take a step back from being a teenager," Josh Mcallister '24 said.
To some Valentine's Day isn't a special day and they feel as if it doesn't need to be a national holiday because it's just for couples and not for the singles.  
"I think it's overrated and that there are already holidays like anniversaries and Mother's Day and Father's Day, and it if you have a boyfriend/girlfriend you feel like you need to get them something and then if one person doesn't get the other thing is to create someone to get upset. I also just feel like it's a waste of money for teenagers," Dean Chisolm '23 said. 
Even though they may be single, the boxes of chocolate and cards from friends make the day better and at the end of the day you can curl up with your candy and watch one of the depression Rom-Coms or romantic movies on a streaming platform to end the day with movies.
"I think it's a cute holiday, I enjoy the candy that is associated with it and the movies are fun to sit down and watch with your friends," Allison Willner '22 said.