Russian Invasion of Ukraine: What You Need to Know
Keep reading to find out the key information you need to know about Russia's invasion of Ukraine.
The news has been buzzing with stories about increased Russian presence on the Ukrainian border. Stories of military buildup and theories about future scenarios fill media headlines. Here's what you need to know to keep up with the anticipated events at the Ukrainian border:
Ukraine was once a part of the Soviet Union, or the U.S.S.R.
Ukraine became part of the U.S.S.R. in 1922, and remained a part of the Soviet Union until its independence in 1991, according to History.com. This means that Ukraine was part of the Soviet Union (present day Russia) for 71 years. Belarus was also part of the Soviet Union and there has been speculation that Belarus could send its troops into Ukraine, according to The Guardian.
Russia seized the Crimea Peninsula, formerly Ukrainian territory, in 2014, according to a New York Times article.
This shows that Russia had the ability to seize Ukrainian territory in 2014. In addition, Russia is building up troops on the Crimea-Ukraine border, according to the New York Times. This poses a significant threat to Ukraine's border. 
Russia's president Vladimir Putin met with Chinese president Xi Jinping to signal a partnership.
Putin and Xi met on the opening day of the Olympics (Feb. 4) and announced a partnership between the two countries, according to CNBC. Xi stated that Beijing would stand with Moscow in not allowing Ukraine to join NATO.
Ukraine's people have expressed support for joining NATO. 
Ukrainians are largely in support of joining NATO, Vox says. This has led to Russia acting like it is threatened by western Europe, considering that Ukraine was formerly a part of the Soviet Union. NATO, the North Atlantic Treaty Organization, is an alliance between free countries. NATO countries do not want to get involved because it would pull NATO into a conflict with Russia.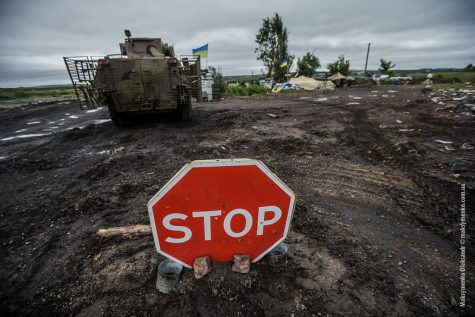 Russia began a large military drill Feb. 10 on Ukrainian borders.
According to BBC, Russia and Belarus organized large military drills on their borders to Ukraine, a precursor to invasion. However, NATO is afraid to defend Ukraine because it could escalate into a war with Russia, one of the big world powers. Russia also has the most nuclear weapons in the world, according to Vox.
Ukraine has declared a state of emergency.
Ukraine's president declared a state of emergency as Germany closed the oil pipeline coming from Russia, signaling sanctions. In addition, the U.S. has cut off some of Russia's major banks, according to Vox. In addition, Russian banks will be cut off from Swift, an important international payment system, which will harm Russia's economy.
Russia began its invasion of Ukraine on Feb. 24. 
Explosions were heard in Kyev on Feb. 24, signaling the start of the Russian attack. According to USA Today, many Ukrainians are fleeing to nearby Poland. Ukrainian forces still control Kyiv and Kharkiv, two of the biggest cities in Ukraine.
"It's a humanitarian crisis, and it's highlighting the tyranny of Russia and many people have been arrested. I think that people need to care about this because it's going to cause a lot of reverberating issues around the world," Mary Robesky '23 said.
Zelenskyy, the Ukrainian president, has not given up on fighting the Russian invasion.
Zelenskyy has implied that Ukrainian armies are alone in fighting Russia, however, Feb. 25, border guards defending Snake Island, an island owned by Ukraine, died refusing to surrender to Russian troops. 
Russian citizens have taken to the streets of Moscow in protest of the Ukraine invasion.
According to NPR, a petition against the Russian invasion received more than 330,000 signatures, and more than 1,800 people were detained after protesting in Russian cities. Protesters were warned that they could face time in prison, according to NBC. 
"I have a friend from my flying club whose family lives in Ukraine, as of yesterday his family has left, for the most part. He is very concerned for his family. He hates Putin. And the Russian government. And if you go look at what's happening, the citizens do too. And the government is not for the citizens, it's a dictatorship," Patrick Mendonca '22 said.
Russia has attacked civilian areas in Ukrainian cities.
According to NBC, Russia originally agreed to postpone attacks in civilian areas to give Ukrainian civilians time to evacuate, however, Russia has continued shelling and attacking Ukrainian cities and civilian areas.
Infographic by Grace Uhrain