FRIDAY FACULTY FEATURE: Danielle Harrison's Venture with Goats
This week's look into what this science teacher's life is like outside of school.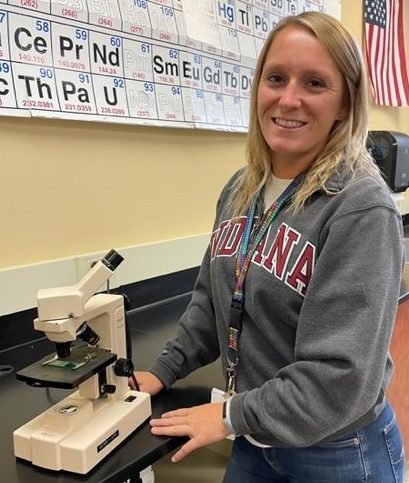 On a sunny day with vivid lighting, two people stood atop Square Top Mountain. One of them was Danielle Harrison. Around them, they could see a herd of goats thriving in nature, demonstrating Harrison's love for biology. She's been a teacher for seven years, and specializes in Chemistry and Biology at Rock Canyon. 
"It's a school. Nothing's perfect, but I love everything about it," Harrison said. 
Prior to her work at Rock Canyon, Harrison's home base was in Indianapolis, at Zionsville High School. 
"I was teaching at a suburban school called Zionsville High School, but it was very similar to Rock Canyon," Harrison said. 
"So when I moved here, I was like oh, my gosh, it's like the same school, same job. So it was super easy to switch. It was a huge relief because again, Rock Canyon is so nice. The kids are so nice. I like the staff, the admin; it's all been an easy transition." 
While settling in Indianapolis, she picked up a dog named Denver about three years ago.
"She actually is a rescue dog. I got her in Indianapolis three years ago and her name was already Denver," Harrison said. "So I didn't want to change it because she knew that name, and it just was like a sign from the universe that I was supposed to move to Colorado. So, it just worked out."
With interests in camping and hiking, she trekked Square Top, a thirteener with almost vertical hills and beautiful scenery, when she finally moved to Colorado. 
"Within like a mile and a half, we climbed like 2,000 feet or so straight up. It was like doing stairs for a mile and a half. It was painful, but very rewarding. There was like a whole goat herd and little babies running around. It was adorable. And what was nice with it being a thirteener is that nobody was there, so we got to the top and it was just us," Harrison said.