It All Falls Down
A look into the preparation and cast of "The Play That Goes Down" which premieres Oct. 27.
The auditorium is packed with people, all talking and waiting for the show to begin. Suddenly, the lights in the auditorium darken and the lights on the stage come up. The actors walk out on stage and begin their scene when suddenly, one of the set pieces falls. Everyone stops, stunned. Was that supposed to happen? 
The Theater Production Ensemble class is putting on "The Play That Goes Wrong" Thursday Oct. 27 and Friday Oct. 28 at 7:00 p.m. in the auditorium. Both showings are free to everyone. The two different nights will have two different casts, with some students switching out the second night to allow some of their classmates to participate.
"The Play That Goes Wrong" is a comedy following a group of actors who are putting on a play, called "The Murder at Haversham Mansion," with their theater company, the Cornley University Drama Society. When their show begins to fall apart, however, the cast and crew are forced to improvise to keep the play going.
Kieran Williams '23 plays Max and Cecil Haversham in "The Play That Goes Wrong." Williams has been doing theater all four years of high school and is now in Theater Production Ensemble. 
"I have a lot of fun. I get to mess around. I get to pull things off walls. I get to throw glass at people," Williams said.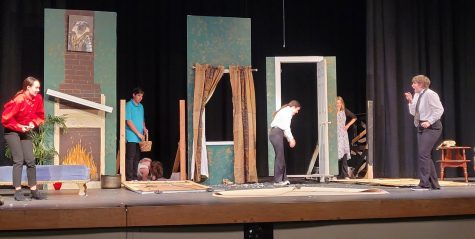 While the play has been going on it has quickly become a dangerous show because the sets are supposed to purposely fall apart.  For "The Play That Goes Wrong," safety precautions have been harder to create because the crew has to make sure that the set can still properly fall apart without hurting anyone.
"A lot of it has been working with our stage manager to find out how to beat people up safely and how to trash a home safely," Williams said. 
Jeriann Villegas '23 plays a stage manager and has been in theater since fourth grade. Usually she controls the tech backstage. 
"I like that everything kind of falls apart and I think we have to figure it out. I like figuring out how to make it fall apart without hurting anyone," Villegas said.
Michael Webb '23 plays Max and has been doing theater since sixth grade.
"[One issue we faced was that] our mantle piece fell off – it is supposed to in the show, but it actually fell off," Webb said. 
Drama Club President Anna Benevento '23 plays Annie, stage manager of the drama society. Benevento has been in theater since her freshman year.
"I just like the community of people and I like getting to work with people who are just as passionate about putting on a good show as I am, and it's nice having a class full of people who love what they do and care about what they do," Benevento said. 
Arianna Johnson '23 is working on tech for "The Play That Goes Wrong", working on the sets to make sure that they fall apart properly and has been in theater since she started high school. 
"I think the play was easier with mistakes because whenever we made a mistake it would be like well it was supposed to look bad because it's the play that goes wrong," Johnson said. 
Theater teacher Cindy Baker does very little in terms of running the show leaving it mostly up to the students to figure out.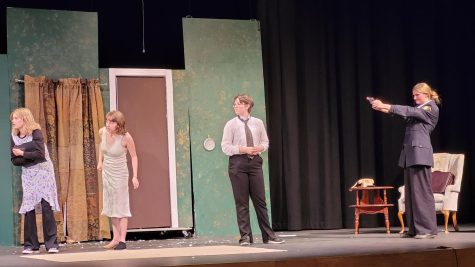 "I think in any play that anyone works on they learn how to give, take, and collaborate with others successfully instead of butting heads and arguing about whose idea is better. They have to take a lot more responsibility for their own accomplishment instead of the teacher setting individual deadlines for individual pieces of the process they have to do. They have to figure out 'I'm going to perform this for good or for bad' and I let them go whether it's good or bad just to teach them that," Baker said.  
Students have been planning and practicing "The Play That Goes Wrong" since the beginning of the school year. After the hard work and dedication from the actors and tech crew they are ready to perform their play in front of an audience Oct. 27 and 28. The play is free and attendees do not need to buy tickets.