Working a Double Life
Students balance school requirements with part time work.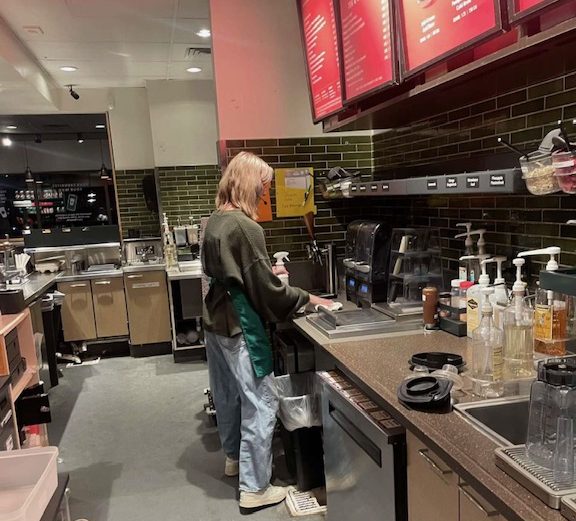 by Claudia Llado, Assistant Editor in Chief: Copy Editor
November 15, 2022
High school. Where cliques are at a high and stress even higher, and classrooms of students learn how to manage their social and academic life.
Balancing everything can be strenuous on its own, not to mention volunteer hours, extracurricular activities, and sports. Imagine that, along with being a part-time employee and full-time student altogether.
For a working student, after going to school for eight hours a day, their part-time life begins. Working anywhere from four to six hours per shift, study time is cut short as these students arrive home late, not to get ready for bed, but to work on their chemistry homework or AP U.S. History project, barely squeezing in time for sleep.
When the alarm goes off the next morning, the sleep-deprived students groan as they know that they have to do it all over again that day.
With everything going on, time management is key. 62% of 110 students interviewed said that they work a part-time job while being full-time students. Here are some working students and what their high school experience is like:
Izzy Bartos '23 works at Starbucks as a barista, and on top of being a student, also goes to cosmetology school and the gym. Bartos loves her job and finds it to be an escape from her day-to-day life, as she can see her friends at work but struggles with time management and balancing her personal, academic, and social life. 
"Yeah, sometimes it's a lot just with like homework, and then I have to rush from cosmetology school to Rock Canyon every day," Bartos said. "And Starbucks closes early, so I have to work right after school and so a lot of the time I don't have time for homework or friends and it gets kind of stressful to balance everything."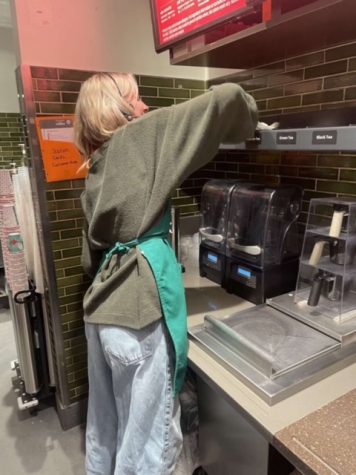 Server assistant Engla Cadwell '25 is also trying to get her pilot's license. Cadwell just started working and struggles to find a good sleep schedule whilst also organizing study time and finishing homework.
"I like my job a lot, but since I haven't been working there for very long, I haven't found a good routine yet and haven't found a good way to balance my life with work," Cadwell said.
Putting in 11 hours a week at Aerie, Raegan Synk '23 works in retail and really enjoys her job. 
"I feel pretty good. Since I've been doing it since like sophomore year, I've managed to create a routine that fits good with my mental health and academics and everything," Synk said. 
Students spend about eight hours a day with their teachers, constantly learning something new or working on homework. 
Colleen Lamb teaches College Prep Reading and Writing, Literature of Film, and AP English Literature and Composition, and has been teaching for 23 years.
"Even the [college] application process has changed since I was in high school. I've helped my seniors apply for college and I don't think I had to write an essay. I think I just hand-wrote my application and mailed it in. So, there are parts of the college application process that have changed, and I don't even know how I would do it myself. It's hard, and even thinking about working to pay for college. It didn't cost as much for me as it does now for you guys," Lamb said.
Skylar Vernell teaches English II and Creative Writing and has been teaching at Rock Canyon for the past two years. As an advocate for mental health, Vernell shares her standpoint on what students have to go through and how school can impact their day to day.
"In high school, I was also an honors and AP student, and it was a lot. I had a part-time job and I also did after-school activities, so I was very, very busy," Vernell said. "I think I saw my theater and choir teacher more than I saw my own parents during my four years of high school, and to me, that was totally normal. Like, I'm doing fine, and it was not fine. And, it actually makes me really sad to see, like, we haven't changed, and that students are still feeling those same ways and having to do all of those things to be a good candidate for graduation and college applications." 
During her years in college, Vernell also worked with the college application board and saw first-hand how student life operates and the relations between students on a college campus.
"
At the end of the day, you're all gonna go off and do amazing things,
— Vernell said.
"In college, I worked with the college application board, so I know how student life works and how things run on a college campus. I've noticed how things have just become more competitive. It makes me sad how competitive you guys are, even against each other. Or how much pressure you put on yourself, because, at the end of the day, you're all gonna go off and do amazing things," Vernell said.
Overall, working students have a very busy schedule, as work and high school prepare them for all the areas beyond the classroom curriculum, learning to create, organize their time, and form new relationships, they are all trying their best as they navigate throughout the next four years of their lives.