C'mon Now, Just Tune In
How Dani Zappavigna '23 and Jazzy Lorenz '23 produce and publish their own podcast.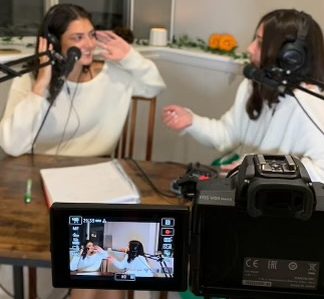 Ready, set, action! Sound proofing, headsets, and cameras line the room. Days of work writing a script and recording audio are finally finished. The podcast is live.
Dani Zappavigna '23 and Jazzy Lorenz '23 collaborated to create a platform that gives peers the opportunity to submit stories and hear other teens going through similar struggles. 
The pair created their podcast, C'mon Now, after becoming friends during the 2021-22 school year. 
"Dani and I had Chemistry together last year, and we would talk the whole time and have such good deep conversations," Lorenz said. "My dad tried to throw on a podcast for business and that didn't work out, so I thought, we have the equipment, we have the camera. Before I knew it, we started recording our first episode in April of 2022." 
Although there are many things that go into starting a podcast, choosing a name was one of the biggest challenges for the girls. 
"We thought about what the idea of our podcast was going to be, like girl-talk basically. But, there are a thousand podcasts out there called 'Girl talk,' so we knew we couldn't do that," Zappavigna said.  
The girls had a list of 10 possible podcast name ideas before they narrowed it down to their top three picks. 
"We had a list of names that we were going to choose from, but I don't even think C'mon Now was on the list. I think one of us just used it in a sentence, and we knew that was the one," Lorenz said. 
The next important part of having a podcast is being able to have constant content and new ideas or topics to discuss.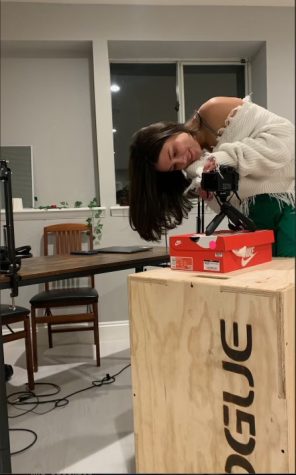 "We're able to get inspiration for our episodes through personal experiences," Zappavigna said. "We think of current events that might be happening amongst friends or our school and the people we know, and then be like 'oh! Let's write about that.'"
The C'mon Now crew knew that they wanted to start with something strong, in order to capture an audience who would understand and relate to the content that was being posted.
"I think at least for our first episode, on FOMO [the fear of missing out], we definitely knew going into it that everyone has experienced FOMO," Lorenz said.  
The girls wanted to talk about the different components of FOMO, including social situations as well as body image insecurities."Body image also falls under that category, so we've also put our own twist on that topic. I feel like since we're seniors we have a good amount of experience with this stuff, right?" Zappavigna said. 
Not only are Lorenz and Zappavigna the sole marketers, directors, producers, editors, and heads of the C'mon Now podcast, but they're also full-time students, part-time employees, and student-athletes.
"We tried to film all of our episodes over the summer so that we would have a bunch stocked up so that we wouldn't have to film until December. But, as we filmed throughout the summer, we realized that wouldn't work. We would mess up constantly, or the lighting would be bad. We were also always coming up with new things we wanted to add or change. For example, we filmed our FOMO episode in April of 22, and it didn't come out until about July," Zappavigna said. 
Being a 'two-woman show' requires both of the crew members to carry on responsibilities to keep the podcast running smoothly. 
"Dani is our editor, and I run marketing. We have both Spotify and an Apple music podcast. We use an RSS feed so that we can track our analytics and see if we were able to make any income. Having everything online makes it really easy to edit," Lorenz said. 
The girls prepare for filming their episodes by going through their talking points out loud and printing out draft scripts to write notes in. Zappavigna and Lorenz use their podcast to shed light on things that they believe all high school students experience at one point or another, and tell stories in hopes of helping other students relate to others so that they understand that they aren't alone. 
The C'mon Now podcast's socials can be found at @cmonnowpodcast on Instagram and TikTok.