Are Clowns a Threat?
Were you thinking of dressing up like a clown on Monday? Well you probably shouldn't.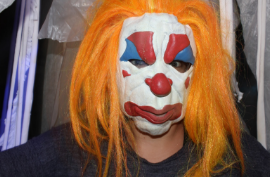 Hang on for a minute...we're trying to find some more stories you might like.
     Some people believe that clowns aren't a genuine threat. Vague sightings of clowns, threat or not, have been reported. Abc's Denver 7 has stated that the Denver Police Department responded to the area of East 53rd Avenue and Kittredge Street at 8:20 Friday Morning, on a report that a student saw a clown across the street and the clown grabbed her and tried to kidnap her. In Adams County Wednesday afternoon the Sheriff said that his deputies had to investigate a report of a person dressed as a clown Tuesday night near a historical building in district 2.
    According to Fox 59 in Reading, Pennsylvania Sept. 25, a 16 year old boy was killed because of a clown.  Rolling Stones magazine wrote about children that have said clowns were trying to lure them in by bribing them with money. Around 30 states have had sightings of clowns in their states. Sightings have been spotted  in the woods, neighborhoods, and even on college campuses in many states. More than 12 people have been caught and arrested that were dressed as clowns. Clown sightings have been spotted around Colorado, 7 News reported that clowns have been spotted and threats of shooting up schools have been reported to the police. "As far as police, we haven't had any clown sightings at Rock Canyon yet so it would just be on a clown by clown basis. Officer Brown said "This whole clown deal has gotten way out of control." In regards to the clown situation Target corp. spokesman Joshua Thomas said " Given the current environment, we have made the decision to remove a variety of clown masks from our assortment, both in stores and online," according to CNN.
     "I think the clowns are a genuine threat, not as much to people but the clown industry," Dylan Williamson 19' said.
    "I think it's not really a threat it's more just people trying to have fun, but some people are taking it too far some people are just trying to mess around with it," William Herrin 19' said.
    Students are allowed to wear costumes to school Monday. The guidelines are listed on the school's website, some include "faces can not be covered up: masks, makeup, and no weapons."