Dashing Through The Decorations
Voting for this year's designs for the first annual Social Studies door decorating contest ends today.
Students walk through the halls, the pods filled with boring brown doors and plain silver handles. With finals just around the corner, AP Psychology teacher Kathryn Lemeshewsky worked with the social studies department to organize a door decorating contest in the 5000s to sprinkle the hallways with some holiday cheer.
"Quite honestly, the social studies [department] has gotten a little lame in school spirit over the years and I'm done with that," Lemeshewsky said. "I'm ready to boost the spirit in our department and I'm trying to do things to get us all to hang out more and contribute more, because I like the people in our department."
Each teacher had to decorate their door in relation to the holidays or the subject that they teach, with 51% of the work done themselves and the other 49% done by students.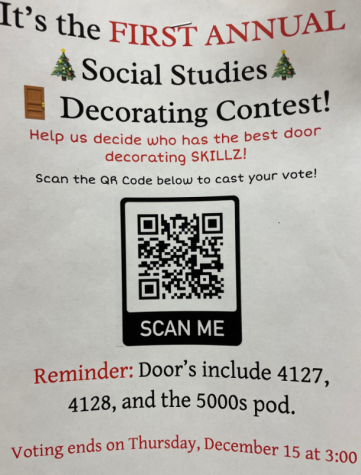 "It was an idea that Mrs. Lemeshewsky had. The idea was just to bring some festive holiday cheer at the end of the semester to make people smile," AP Economics teacher Kate Hartline said.
Students can vote between the three categories doors will be judged on – theme, creativity and craftsmanship.
"I wasn't necessarily forced into it, more that it grew onto me," Ancient Civilizations and Psychology teacher John Talarico said.
The winning prize has yet to be announced. 
"This was Mrs. Lemeshewsky's idea. She's very convincing. She created the rules herself and she created the voting system herself, plus she's [competing] in [the contest]. So I just thought that there is a little bit of conflict of interest," AP U.S. History and AP Seminar teacher Matt Sassali said. "All joking aside, it was kind of a bonding thing as a department and something fun to do to get ready for the holidays."
Voting ends at 3:00 p.m. Dec. 15. Photos of the doors in the competition are above. Scan the QR code or click the link below, and submit your vote for the first annual door decorating contest!